Partnership for Nuclear Security Multimedia Competition Winners Host Event in India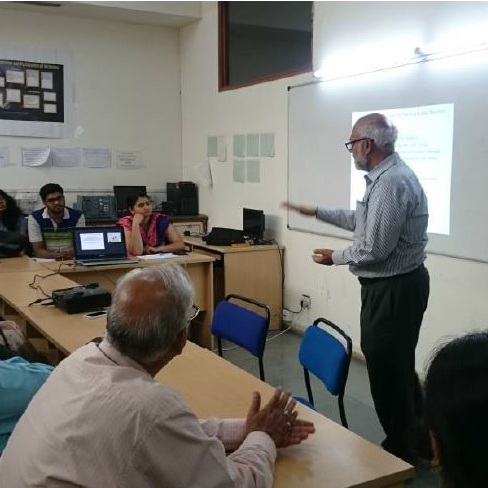 Third-place winners of the Partnership for Nuclear Security's (PNS) Nuclear Security Multimedia Competition, Indrani Bisuri and Akash Agarwal, recently hosted an event at their home institution of Amity University, located in Northern India. During the event, which was attended by university staff and faculty, Bisuri and Agarwal presented their competition submission, securethenuke.in, a website that raises awareness for nuclear security issues.
Bisuri's and Agarwal's event could not be more relevant as India embarks on an ambitious plan to generate 25% of its energy needs from nuclear power by 2050. With plans to construct to six new nuclear power plants and the construction of what could be one of the world's largest nuclear parks in coming years, nuclear security will become an increasingly important national and international issue for the country.
Attended by students and faculty at the university, the day-long event presented all who attended with a more in-depth look at best practices for nuclear security and provided a forum participants to share their ideas regarding the issue. One key outcome of Bisuri and Agarwal's event was the development of plans to organize a student chapter at the university of the Institute for Nuclear Materials Management, which has 21 other chapters organized around the world.
Supported by CRDF Global, the PNS' multimedia competition aimed to promote nuclear security culture and best practices among educational institutions, nuclear facilities and research laboratories through illustrations, posters, infographics, videos, mobile applications and games and was open to nuclear professionals in Algeria, India, Indonesia, Jordan, Morocco, Nigeria, Saudi Arabia, South Africa, and the UAE. Along with Bisuri and Agarwal, there nine other winners announced in the competition. Winners of the competition received prizes ranging from funding to attend the 14th Annual Congress of the International Radiation Protection Association to grants to support activities promoting nuclear security in their home countries.  
Managed by CRDF Global on behalf of the U.S. Department of State The Partnership for Nuclear Security seeks to promote a self-sufficient nuclear security culture, ingrained in the partner country's nuclear technical community by encouraging responsible science and nuclear security-related best practices.