CRDF Global Hosts Critical Infrastructure Security and Resilience Workshop for Ukraine Security Specialists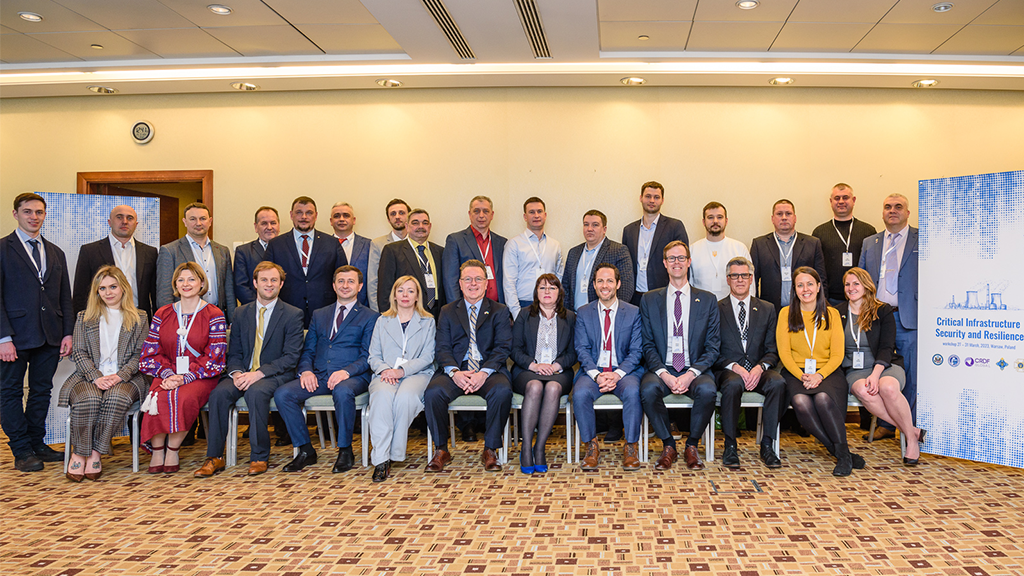 31 March, 2023, Warsaw, Poland – The U.S. Department of State Bureau of International Security and Nonproliferation's Office of Cooperative Threat Reduction has partnered with the National Security and Defense Council of Ukraine and the State Service of Special Communications and Information Protection of Ukraine to complete a five-day "Critical Infrastructure Security and Resilience" workshop for Ukrainian state and private sector critical infrastructure specialists. The U.S. Department of Homeland Security Cybersecurity and Infrastructure Security Agency (CISA) and CRDF Global were also pleased to support this workshop. The goal of the workshop was to build capacity, resilience, and interconnected partnerships across Ukrainian agencies and the critical sectors and functions they represent.
The workshop featured a variety of interactive sessions, lectures, discussions and group activities led by CISA experts. Moreover, the attendees had the opportunity to learn from one another and engage in discussions about their collaborative efforts in respective industries.
"CISA is proud to work collaboratively with our partners at the State Department's ISN/CTR and CRDF Global in providing our first in-person capacity building engagement and training to our Ukrainian partners operating and protecting their nation's critical infrastructure," said Kaitlin Jewell, Associate Director for CISA International, CISA. "We appreciate the opportunity for this valuable information exchange and sharing of best practices to strengthen security and resilience and plan to build on it for future engagements."
"CRDF Global is honored to host this workshop and bring together Ukrainian specialists from the critical infrastructure field. We believe that this workshop has been a valuable learning and professional experience exchange for everyone involved and serves as a new milestone for collaboration, coordination, and dialogue aimed at strengthening critical infrastructure in Ukraine," said Vladlen Basystyi, Operations Manager, Security Assistance Program, CRDF Global Ukraine.
For more information about this workshop, please contact the Office of Cooperative Threat Reduction, U.S. Department of State, at CTR-SP@state.gov or Ms. Iryna Loik, CRDF Global, at iloik@crdfglobal.org.