How One Tech Entrepreneur is Addressing Autism in Bangladesh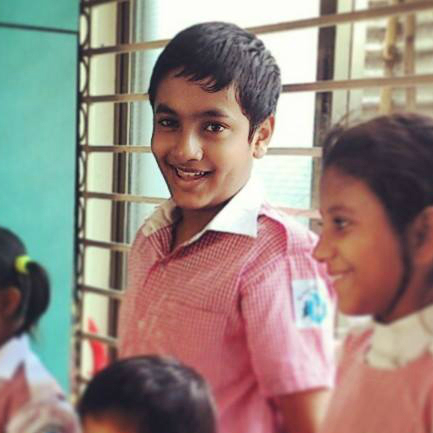 Despite progress over the past several years, there is still a large stigma attached to autism around the world that has negatively affected both those who have been diagnosed with it and their caregivers. This is particularly true in Bangladesh where public knowledge about autism is limited and adequate support can be hard to find. Since her participation in a CRDF Global-organized boot camp in Bangladesh in 2014 under the Global Innovation Through Science and Technology Program (GIST), Mahenaz Chowdhury has grown her startup, Buckets, which provides virtual solutions and builds engaging communities to support people with autism. I connected with Ms. Chowdhury to talk about what she's learned about autism through her work as a technology entrepreneur over the past couple of years.
Amanda Gant: Why did you first start your venture? What gave you the idea, originally?
Mahenaz Chowdhury: In 2013, I met a friend whose sister had moderate autism. By the time I had met him, his sister was already 29 years-old. Sadly, their parents had separated long before because of his sister's condition, leaving his mother to bear the brunt of caring for both my friend and his sister. Through this relationship, I saw how strong his he and his mother had to be in that situation. As I became close to his mother, I started to realize how challenging each of their lives had been since his sister's diagnosis and his parents' separation. Back then, there were only 1 or 2 specialized schools in their area that could aid their family, but each treated their students miserably. Listening to my friend and his mother helped me better understand the challenges that families can face when dealing with autism and these conversations laid out how crucial early intervention is. That's where the idea came from: to solve problems for caregivers addressing three major questions: Where to go for help? Who to go to? And what can I do to help my child?
AG: What most surprised you about autism that you've learned while doing your work?
MC: How talented each kid is and how they contribute their ideas into the activities we have done so far. From their participation in workshops to picking up the tablet-based app we designed, their ideas and input have been valuable and inspiring and shows how valuable their contributions can be if they can be better understood. Secondly, how important our initiatives are to the caregivers. It affected me as a person to observe and learn about their problems, and the extent of their gratitude is phenomenal. It shows how a little help can go a long way. 
AG: You mentioned your tablet-based app, what did you learn about the mobile apps that you were building for autistic children?
The market is not ready for a paid app yet, because customers are not aware of the needs properly, and despite that the culture of paid apps is almost non-existent here. Also the methods of integrating the apps with school curricula that I planned on has been very very challenging and we have not come close to it yet, but I am confident that through continued development we can achieve this goal.
AG: What have been the most difficult things to achieve or obstacles you've faced in your app's development?
MC: Customers knowledge about technology-based intervention for their children is limited. This was a major challenge in doing the prototype of our system and our app. Along with that, having a steady team was a struggle due to time and resources. Also, maintaining volunteers, as they tend to come and go, and keeping them motivated has been quite a challenge to keep building on our ideas and executing them. However, we do have one fabulously talented volunteer who helped us execute our 2016 online program of public awareness campaign. 
AG: Have you made a "pivot" or a change based on your experiences along the way?
Yes, due to all of the challenges that we've faced developing our tech tools, we have moved away from the technology integration part of providing information to the caregivers and children with learning difficulties to simply focus on workshop based learning methods in a safe and inclusive environment. The workshops not only allow us to directly aid people with autism and their families, but also function as tools for public awareness educating people on what autism is and helping to eliminate its stigma in Bangladesh, which is a key starting point for improving the lives of people with autism and their caregivers. Additionally, these workshops are an effective and invaluable tool for providing the information that we need to refine our app and inform how we go about developing and releasing it in the future. 
That is actually one of the most memorable lessons that has stuck with me since I participated in the GIST boot camp that CRDF Global organized: Stay strong and fail fast. Jim Bagnola was my mentor for the challenge at the boot camp, and what I learned from him was how to stay optimistic about my project without getting intimidated by the obstacles. He gave me so much courage and inspiration to stay strong. In order to succeed you have to fail fast so that you can keep adapting and changing according to needs. This advice from from James Chung, one of the judges and mentors, has stuck with me. 
Ever since then, I have made sure to keep trying different ways to make my my venture work, and that has included talking to more families and teachers to specify their needs what could potentially help meet them. 
AG: What activities have you or your venture achieved lately of which you are most proud, or feel have greatest impact? 
The activities that I'm most proud of are our Storygami and Bake a Difference workshops. Both have given us access to incredible customer feedback, which has helped me narrow Bucket's focus to what is working from what wasn't. 
Storygami was a two-day inclusive workshop categorized for 2 age groups for children and parents to come and participate in a communication focused art and origami-based activities. The idea was to encourage children to listen, learn, and create their own stories by working with professional animator to learn how to animate easily with simple tools and turn their ideas into stop motion stories. Through this workshop we learned how amazing it was for caregivers to have access to a safe and a fun platform.
The second workshop was Bake a Difference, where kids and parents baked cookies and muffins mentored by two amazing professional chefs. The objective was to learn about autism and five ways that they can befriend children with autism. They also drew posters with one of the five ways to hand out to their family members, which came with a goodie bag that they made with the treats that they baked. This was an instant hit among kids, parents, and caregivers alike, and we learned better ways to communicate messages about about autism. 
AG: What plans does your company have next?
MC: Our original idea was technology-based, and while we have pivoted away from that to gather data from our workshops, we are still committed to developing an app that will aid those with autism, their caregivers, and raise public awareness around the issue of autism. 
AG: What message do you have for the general public about autism?
MC: Communication and interpretation of messages is such a complicated yet simple thing that we take it for granted. I feel that we need to overcome our stereotypical ways of seeing the world and be more accepting of people's differences as it is important for us to grow as human beings.