Dispatch From Jordan: Meeting HRH Prince El Hassan bin Talal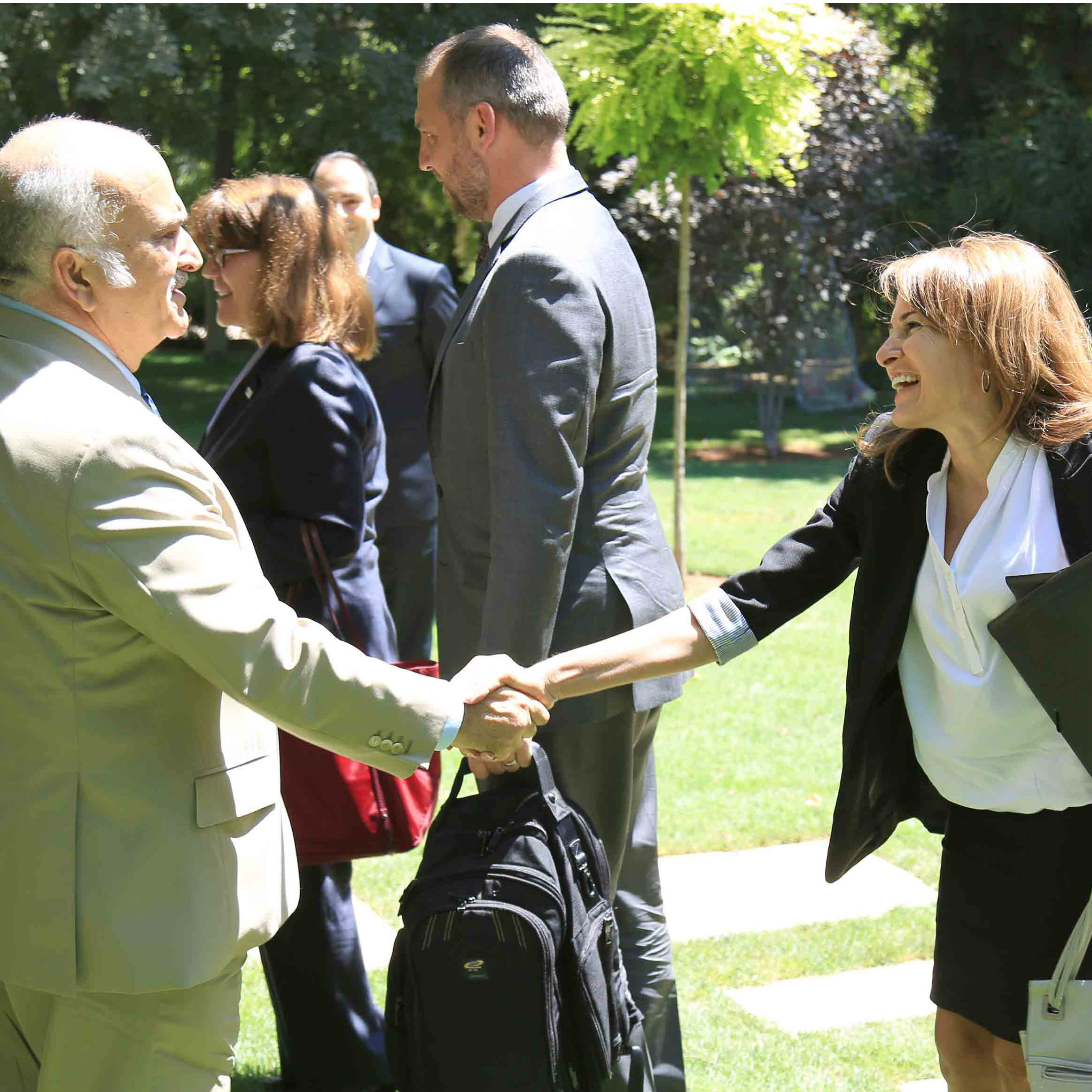 Meeting with Jordan's Prince El Hassan bin Talal, CRDF Global President and CEO, Cathy Campbell, discusses the promise of science for the future of Jordan and the Middle East.
One of the highlights of my recent visit to Amman, Jordan was a meeting with HRH Prince El Hassan bin Talal.  The setting was perfect – we gathered around an oblong wood table on an outdoor patio in the beautiful gardens of the royal palace.  Prince Hassan gathered a distinguished group of individuals for the meeting, including HRH Princess Sumaya bint Hassan, President of the Royal Scientific Society of Jordan and member of the Advisory Board of the journal, Science & Diplomacy.  I was honored and delighted to meet both HRH Prince El Hassan and HRH Princess Sumaya, each of whom has been such a strong supporter of science and science diplomacy.  
Though our discussion was broad, education, innovation and science were major themes. From Iraq's Virtual Science Library (which CRDF Global helped establish) to supporting the region's refugees, there was agreement regarding the important role that science can play in addressing not only problems facing Jordan, but the region as whole.
Despite the challenges currently facing the region, Jordan is making strides to improve its capacity for science and innovation.  Efforts are underway to increase science education in schools, and at the university level, there is the recognition that there needs to be more scientific collaboration between Jordanian and U.S. universities.  One noticeable accomplishment is the recent opening of the country's Emergency Operation Center, which will improve the country's ability to identify and control local, regional and global outbreaks, and position the nation as a regional hub for disease surveillance and response in the Middle East and North Africa (MENA). Regarding innovation and entrepreneurship, OASIS 500, a Jordanian seed investment company, has supported 120 start-ups in Jordan and is partnering with the Royal Scientific Society's iPark business incubator to promote intellectual property development and securing financing for innovations. With all that is currently facing the Middle East, Jordan is forging a path towards a brighter future.
Speaking with the Prince and others who gathered for this occasion reminded me that there is still plenty of room for science diplomacy in the Middle East. During the meeting, Abier Amarin, the Director of CRDF Global's office in Amman, described our work in the region and particularly our ongoing collaborations with the Royal Scientific Society and the Middle East Scientific Institute for Security (MESIS).  We discussed plans for the upcoming Science Diplomacy workshop that CRDF Global will co-sponsor with the Economic and Social Commission of West Asia (ESCWA) Technology Center and the Royal Scientific Society in early December.  This workshop is designed to raise awareness of the importance of science diplomacy and provide practical examples that address priority needs, such as water and energy.  All agreed that science diplomacy can play a productive role in the region.
As I reflect on the meeting, I have three key takeaways. First, Jordan and its neighbors face many challenges related to refugees, security, education, water, energy, economic growth, etc.  All of these are challenges which science and innovation can help to address.  We must do more to partner with Jordan to support scientists and innovators.  Second, we need to keep focused on people and leaders who care about and understand the importance of science collaboration. For instance, HRH Prince el Hassan is passionate about improving the human condition.  He realizes that science and technology can help tremendously, as long as we focus on effectively using science and technology for societal benefit.  Third, organizations working in the region must think broadly and creatively to develop high-impact programs in the region.  CRDF Global is a relatively small organization, but working with the right partners in Jordan to effectively apply science and innovation, we can make a difference.