Our Voices
5 Lessons Learned from Conducting the First Hybrid Virtual IVLP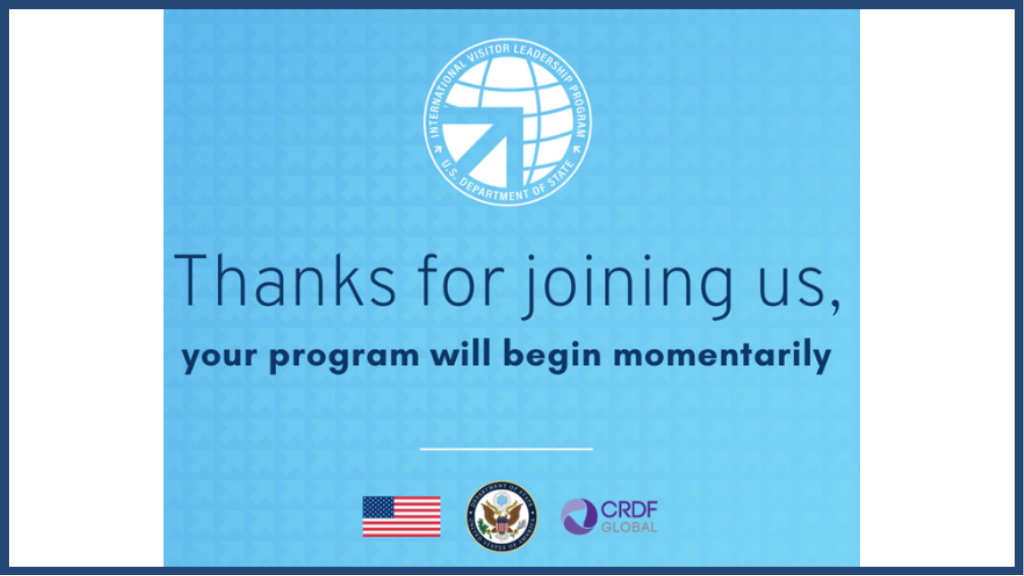 By: Katelyn McAlister

When we began organizing the International Visitor Leadership Program (IVLP) on Combatting Gender-Based Violence: A Project for Brazil, it started off like any other project. Flights were arranged, meetings with professional resources from around the country were scheduled, and itineraries were finalized. By March 6th, the group of international visitors was all set for a three-week stay in the U.S., with visits to New York City, Syracuse, Cincinnati, and Detroit. Unfortunately, their stay was cut short when the COVID-19 pandemic hit in mid-March, forcing all U.S. Department of State exchange programs to cease in-person activities for the foreseeable future.
While this was new territory for everyone, we did not want this pause in programming to deny participants the invaluable opportunity to discover common ground with their U.S. counterparts and learn new approaches to combatting gender-based violence. We were also acutely aware of the importance of this IVLP's focus, as both the U.S. and Brazil observed a sharp increase in the number of domestic and gender-based violence cases since the start of quarantine. With this in mind, we set out to curate a series of dynamic virtual meetings that would provide our participants with a diversity of thought and approach, as well as actionable next steps that they could take in their communities. We've outlined a few of our lessons learned below.
Create Your Project Schedule…Then Allow for More Time
Coordinating a virtual project requires a lot of advance planning. Our team uses project management best practices and tools to organize meetings and communications, adding extra time to buffer against unexpected issues that arise. In this case, it is especially important to allow plenty of time to communicate with your partners and ensure everyone is on the same page. Additional ways to stay on schedule include allotting extra time for assignment of interpreters and translation of program materials. To be sure you have enough time, we recommend requesting interpreter assignments at least two weeks in advance. Lastly, a way to save time during your opening session is to consider hosting a pre-project call to allow participants, interpreters, and speakers time to test their connections, virtual backgrounds, interpretation channels, and other Zoom features prior to the first meeting.
Expectation Setting
Setting expectations for how the virtual meetings will flow is critical to their success. We suggest sending all stakeholders a short Run of Show in advance of the call to establish a shared understanding of roles and responsibilities, in addition to providing a brief introduction at the beginning of each session. This is especially important for virtual meetings as virtual settings can sometimes pose a challenge to the conversational flow of a meeting due to lag times and a lack of visual cues. We found Zoom's Chat and Raise Hand functions provided an effective workaround to this challenge. In our guidance, we also recommend that anyone joining the call who is not a participant or a speaker mute themselves and turn their cameras off to minimize distractions. Lastly, when setting expectations, always ensure that speakers share their presentation slides with project organizers in advance of the call. If speakers experience any technical difficulties presenting in the shared screen mode, organizers can pull the slides from the centralized platform and share their screen with participants.
Organize Virtual Content in One Place
Unlike an in-person project, virtual projects prevent organizers from sharing printed project materials, such as Program Books and welcome packets with participants. Rather than emailing each document, PowerPoint, or pamphlet one-by-one, our team used CRDF Global's remote engagement platform, REDOX, to store English and Portuguese Virtual Program Books, virtual backgrounds, digital resources, contact information, and supplemental meeting materials in one online location that was easily accessible to the participants. A great way to make your online site more effective is to include a chat or blog feature allowing participants to share their thoughts and ideas with each other in an asynchronous space.
Manage Language Barriers
At the beginning of each meeting, be sure to explain the use of interpretation channels to all meeting participants and ensure that everyone understands how they operate. During the call, interpreters will not be able to hear each other speaking, and must therefore use an agreed-upon hand signal to indicate that they are ready to take a break or take over interpretation for their colleague. It is important to make speakers and participants aware of this means of communication ahead of time, so that they do not interpret the hand signals as a request to halt the conversation. Finally, in a global space like exchanges, many of our colleagues and partners speak more than one language and enjoy practicing with visitors. Let your partners know that it's okay to practice together while waiting for the call to start, but once interpretation is in place, it is key that everyone speaks their native language to ensure the most authentic meaning of their speech can be interpreted.
Facilitate Group Bonding
As we all know, it can at times be difficult to build a sense of community over virtual platforms. During our project for Brazil, we combated this in our collaboration with the World Affairs Council of Cincinnati & Northern Kentucky by hosting a virtual Home Hospitality session. This session proved valuable in allowing our Brazilian visitors and our community partners to share recipes and (virtually) come together over dinner, sharing American culture and values, while enjoying the flavors of Brazil.
In navigating the first hybrid virtual IVLP, we observed that remote engagements maintain the program's ability to defy cultural stereotypes and cultivate lasting relationships among emerging global leaders. As long as participants and speakers are engaged and willing to learn, there is no limit to the knowledge and enlightened understanding that they can gain for a society and culture other than their own. We observed this firsthand, as we listened to the conversations between our international visitors and U.S. experts who seemed nearly unphased by the thousands of miles that lay between them. Instead, they continued to build relationships that will live on for years and prove impactful in the fight against gender-based violence in both countries.