Ukrainian Delegation Visit to the Jordan Emergency Operations Center at the Jordanian Ministry of Health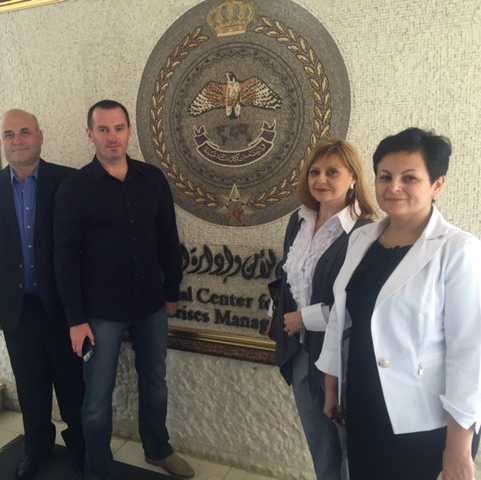 ARLINGTON, VA—CRDF Global in partnership with the Jordanian Ministry of Health, Crisis Management Unit, hosted an official delegation from Ukraine in Amman, Jordan. The purpose of the meeting, that took place from October 26 – 28, 2016, was to share knowledge and expertise of Jordan's emergency preparedness plan in support of Ukraine's ongoing effort to develop Emergency Operations Center (EOC) capacity. The Ukrainian delegation consisted of officials from the Ukrainian Ministry of Health, the Regional Center of Emergency Medical Care & Disaster Medicine of Dnipropetrovsk Regional Council, the Ministry of Defense and the Department of the State Sanitary & Epidemiology Service.  Funding for the activity was provided by the U.S. Department of State's Biosecurity Engagement Program (BEP).
During the course of the three day meeting, the Ukrainian delegation received an overview of the Jordanian Ministry of Health's organizational structure and its emergency response mechanisms before and after the establishment of EOC. The delegation was also introduced to Jordan's public health crisis surveillance system and interagency reporting system that operates in compliance with International Health Regulations. As part of the visit, the Ukrainian delegation, accompanied by Jordan MOH representatives, conducted site visits to various facilities involved in the EOC and experience first-hand view of the operations and technology.
The visit concluded with both countries' representatives discussing areas of potential collaboration to provide learning opportunities in the areas of emergency preparedness and response.
About CRDF Global
CRDF Global is an independent, nonprofit organization established in 1995 to promote international scientific and technical collaboration through grants, technical resources, training, and services. CRDF Global has 20 years of experience managing international research funding programs and supporting emerging science and technology infrastructure in more than 40 countries in Eurasia, the Middle East, North Africa and South Asia.
About the Emergency Operations Center
The Emergency Operations Center at Jordan's MOH is a facility equipped with state of the art data management, video and teleconferencing capabilities, and smartboard technology, all supported by an uninterrupted power supply. When responding to a public health emergency, the EOC can coordinate its field offices throughout Jordan's 12 governorates, while also serving as an important hub of communication and coordination between ministries, agencies and various other partners.