Ukraine's ATO/JFO Veterans Begin First Cybersecurity Professional Development and Reintegration Training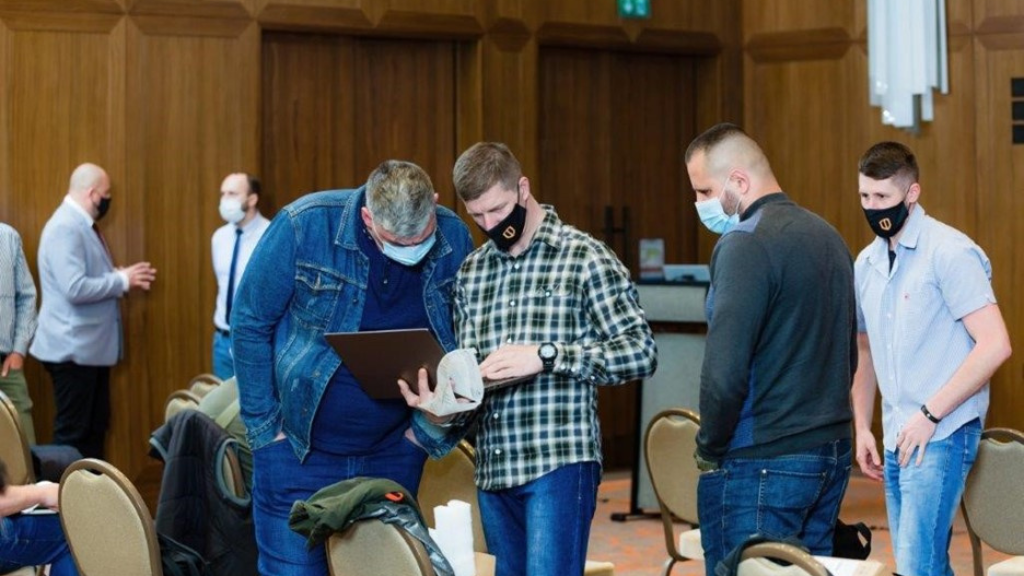 During the launch event, participants had an opportunity to hear inspiring stories of fellow veterans, meet their new trainers and mentors, and receive specialized computer equipment and participant kits to start their cybersecurity training. The event was attended by representatives of the Ministry of Veterans Affairs of Ukraine, the U.S. Embassy in Ukraine, the National Security and Defense Council of Ukraine, CRDF Global, as well as professors and mentors of the program.
The Cyberdefenders program consists of two training components: cybersecurity technical skills and reintegration. The first part includes courses from professors at the Igor Sikorsky Kyiv Polytechnic Institute, as well as leading Ukrainian and international experts. Specialists from the National University of Kyiv-Mohyla Academy will help participants with the reintegration process, including new technical, analytical, language, and soft skills necessary for rehabilitation and reintegration into society.
Upon completion of the course, participants will receive a state-recognized certificate in the field of cybersecurity, as well as the opportunity to take the CISCO Academy certification exam free of charge. The 30 participants were selected from 460 applicants. All applications were evaluated based on participants' interests and ability to learn new skills in cybersecurity. Those who did not qualify for the first group will be eligible to join the program later. Training for the next 30 veterans will start in September.
Training Event Speakers:
Adam Marlowe, Economic Officer at the U.S. Embassy in Ukraine
Ihor Bezkaravaynyy, Deputy Minister for Veterans Affairs of Ukraine
Serhiy Prokopenko, Head of the National Cyber Security Coordination Center at the National Security and Defense Council (NCSC)
Mykhailo Verych, Deputy Program Manager of the CRDF Global Cybersecurity Program in Ukraine, Moldova and the Western Balkans
Olga Streltsova, CRDF Global Senior Project Lead of the cybersecurity professional development and reintegration program for ATO/JFO veterans "Cyberdefenders" in Ukraine.
Volodymyr Tkach, co-developer of the program, candidate of technical sciences, Assistant Professor of the Information Security Department at the Igor Sikorsky Kyiv Polytechnic Institute
Oleksandr Zelenyuk, head of the mentoring component from the National University of Kyiv-Mohyla Academy
Find out more about the training program, selection terms and criteria, as well as other important information on the official program website www.cyberdefenders.org.ua
About CRDF Global's cybersecurity improvement program
Recognizing the risks associated with an increasingly interconnected digital world, in 2019 CRDF Global launched a cybersecurity improvement program in Ukraine, Moldova, and Western Balkans dedicated to preventing cyberattacks by building robust cyber infrastructures and strengthening cybersecurity workforces. This program is supported by the U.S. Department of State's Office of the Coordinator of U.S. Assistance to Europe and Eurasia.
About CRDF Global
Established in 1995, CRDF Global is an independent nonprofit organization that promotes safety, security, and sustainability through international development and foreign assistance missions across the globe. A trusted government partner for over 25 years, CRDF Global provides technical assistance, trainings, logistics, and program management in the areas of CBRNE security, global health, cybersecurity, strategic trade controls, international exchanges, and more. The organization is headquartered in Arlington, VA, US, with regional hubs in Amman, Jordan and Kyiv, Ukraine. More details on the CRDF Global website.
For more information about the Cybersecurity Professional Development and Reintegration program for ATO/JFO veterans "Cyberdefenders" and CRDF Global's cybersecurity improvement program in Ukraine, please contact:
Larysa Podhostnik,
cyberdefenders@crdfglobal.org