Entrepreneurship Training Helps Ukrainian Startups Enter the Global Market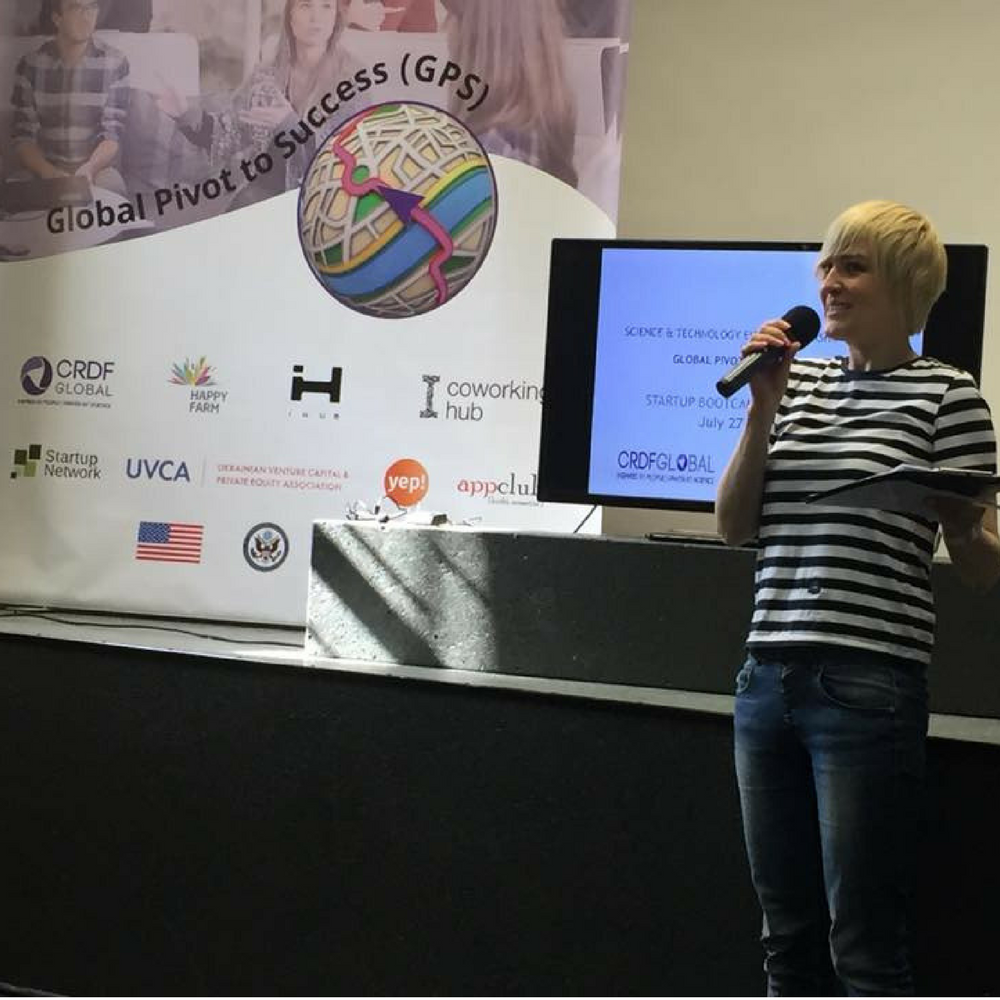 In partnership with Happy Farm Business Accelerator, IHub (Kyiv) and I-Coworking Hub (Dnipro), CRDF Global held 2017's STEP Ukraine technology entrepreneurship training and pitch competition from July 24-28 to foster innovation in Ukraine.
The event helped emerging companies refine their business development strategies, expand locally, and enter international markets. This year's "Global Pivot to Success" (GPS) competition invited experienced technopreneurs and early stage companies who have already gained market traction. The sheer amount of submitted applications exceeded expectations and the overall rivalry among local startups turned out to be extraordinarily keen. CRDF Global's international experts reviewed over 80 submitted applications and only the top 24 teams were selected to participate in the bootcamps and competition finales in Kyiv and Dnipro. Bootcamp participants from various regions of Ukraine got an opportunity to receive feedbacks from experienced serial entrepreneurs and business angels and to apply this new knowledge to improving their business concepts and investor pitches right there, in the course of the two-day program.
On the final day of the program, selected startup teams presented their refined business pitches at the GPS competition judged by a panel of experts from the U.S. and Ukraine. Winners of the competition received the following awards:
CRDF Global travel grants to attend the TechCrunch Disrupt event in San Francisco (https://techcrunch.com/event-info/disrupt-sf-2017/)
Kray Technologies/Dmytro Surdu/Kray Technologies- the first industrial robotic cargo drone for crop dusting
MyDutyFree/ Katerina Furtak/MyDutyFree- global duty free marketplace
Senstone/Max Titov/Senstone Inc.- an audio company that's on a mission to disrupt the note-taking and life journaling experience through AI hardware and software
Traqli/Newzmate/Alexei Chapko- digital publishing and e-marketing service  
CRDF Global Business Acceleration Awards:
Raccoon.World/Svitlana Malovana/Raccoon.World- innovative tech company that creates hand gadgets for VR and video gaming industry
VRNET/Anastasiia Zaharodniuk/VRNET-automatically converts 3D models into Virtual Reality (VR)
CRDF Global looks forward to hosting this year's STEP Ukraine travel grant winners in the U.S. as it continues to support indigenous technology entrepreneurship capacity in Ukraine. The STEP Ukraine is made possible through grants from the United States Department of State.CRDF Global team would like to express its sincere appreciation to our local partners: Happy Farm Business Accelerator, IHub Kyiv, and I-Coworking Hub for their invaluable support and for their remarkable efforts to build vibrant entrepreneurship and innovation ecosystem in Ukraine.