CRDF Global and The Eastern Mediterranean Public Health Network (EMPHNET) Partner to Improve Global Health Security and Mitigate Infectious Disease Impact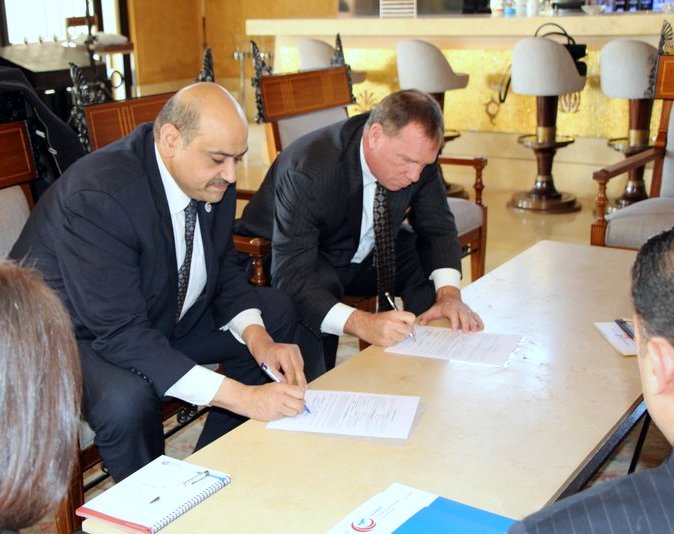 ARLINGTON, VA—CRDF Global and the Eastern Mediterranean Public Health Network (EMPHNET) announced today a partnership agreement to pursue shared goals of improving global health security and mitigating impacts of infectious diseases. The devastation of such outbreaks as Ebola, avian influenza, West Nile virus, and SARS have been acutely felt around the globe. Improving response capacity is a high priority for EMPHNET and CRDF Global.
"Disease outbreaks and epidemics can have catastrophic effects on many areas of society," said CRDF Global President and CEO Mike Dignam. "Investing in strategic initiatives that improve how we prevent, detect, and respond to diseases is key to building stronger, healthier communities around the world.  Global health security is a key priority for our organization."
For his part, EMPHNET's Executive Director Dr. Mohannad Al-Nsour noted the importance of the collaboration between the two organizations, "We recognize the efforts made by CRDF Global and EMPHNET to strengthen health threats investigation and response. Now, we can continue these efforts to make a stronger contribution to public health of the region and beyond."
The agreement was signed on December 14, 2016 at the Kempinski Hotel, Dead Sea, Jordan, during CRDF Global's participation at the Arab Leadership Dialogue on Science Advice to Governments. The event was organized by the Royal Scientific Society and the UN Economic Commission for Western Asia (ESCWA) Technology Centre, in partnership with the International Network for Government Science Advice and CRDF Global.
CRDF Global is an independent nonprofit organization that promotes international scientific and technical collaboration through grants, technical resources, training, and services. The only public health network in the Eastern Mediterranean Region (EMR), EMPHNET partners with ministries of health, non-governmental organizations, and the private sector to strengthen public health systems in applied epidemiology, disease control, routine immunization, and emergency outreach and response.
This partnership will support development and capacity building efforts to help Eastern Mediterranean nations improve emergency preparedness and response, including deliberate attacks and natural disasters. CRDF Global and EMPHNET have supported and collaborated with the Emergency Operations Center (EOC) at the Ministry of Health in Jordan since its inception. The organizations also worked together to conduct three workshops in 2016 to strengthen Ukraine's response to disease outbreaks and other public health threats.
"EMPHNET is a highly respected partner, and we're excited by the potential of teaming together to strengthen the public health systems of the Eastern Mediterranean Region," said CRDF Jordan Country Director, Abier Amarin.  
"Fundamental to CRDF Global's mission is bringing researchers together across borders to develop solutions to issues impacting our world. Our location in Jordan, in particular, was established to serve as an accelerator for scientific collaborations in the MENA region and we are excited to further our work with local partners," continued Amarin.  
About CRDF GlobalCRDF Global is an independent, nonprofit organization established in 1995 to promote international scientific and technical collaboration through grants, technical resources, training, and services. CRDF Global has 20 years of experience managing international research funding programs and supporting emerging science and technology infrastructure in more than 40 countries in Eurasia, the Middle East, North Africa and South Asia.
About EMPHNETThe Eastern Mediterranean Public Health Network (EMPHNET) is a non-profit organization that was established in 2009 with the goal of improving health status in the Eastern Mediterranean Region (EMR). It builds national and regional capacities in several priority public health areas, such as outbreak investigation, disease surveillance, rapid response, International Health Regulations (IHR) implementation and more. Its main areas of focus include applied epidemiology and research, non-communicable disease, communicable disease, and health security.