Digitizing Agribusiness in Ukraine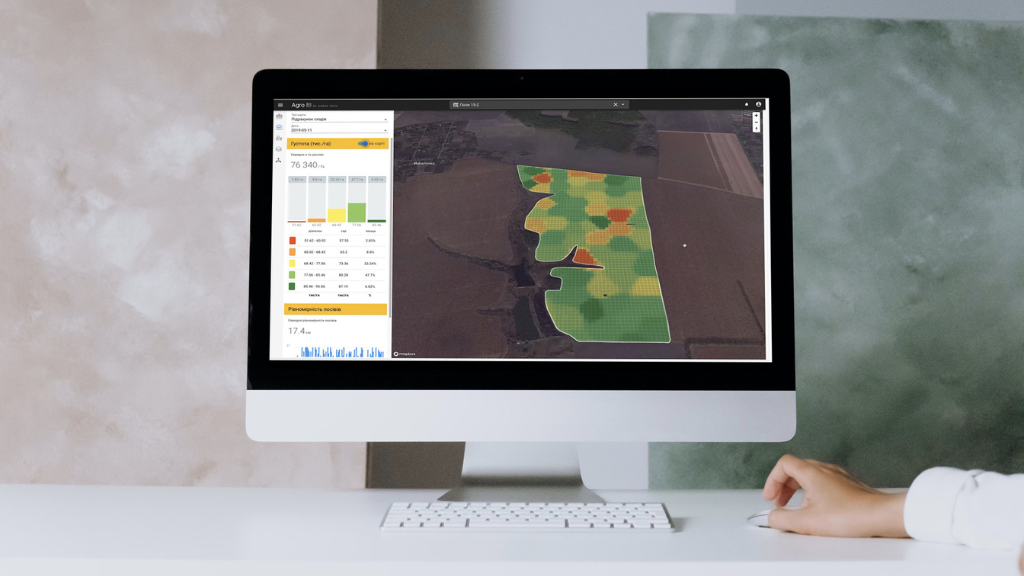 Agriculture and IT are two of Ukraine's fastest-growing industries. In recent years, pioneers in innovation have turned to combining the two industries to make Ukraine one of the most important countries in agribusiness and emerging technologies. From digital trading platforms to smart farming solutions, Ukraine's quickly growing startup industry is using AgTech and artificial intelligence (AI) to improve livelihoods and strengthen food security.
Food security has particular significance in Ukraine where, from 1932-1933, the Great Famine, known today as Holomodor ("killing by hunger"), caused millions of ethnic Ukrainians to perish from starvation. Denied for years by then Soviet authorities, Holodomor Remembrance Day is now observed in Ukraine on the fourth Saturday of November each year.
CRDF Global's Science and Technology Entrepreneurship Program (STEP) in Ukraine seeks to strengthen the country's innovation ecosystems by helping emerging companies refine their business development strategies and connect them with international mentors and investors to bring their ideas to market. It is a privilege to help innovators like those described below launch sustainable solutions that enhance food security and drive country-wide economic growth.
Tradomatic: The Digital Matchmaker for Farmers and Buyers in Ukraine

Denis Dmitriev and Dennis Balon are the creators of Tradomatic, a mobile platform that is digitizing agricultural trade in Ukraine. Through a mobile chat bot, agricultural traders can identify best prices, observe market trends, and search for potential buyers in a single one-stop shop.
Denis Dmitriev came up with the idea for an automatic trading service after growing tired of the disorganized nature of traditional agricultural trading in his own work. With their combined experience of 18 years in software development and 15 years in agribusiness, the founders set out to modernize Ukraine's farming industry.
Tradomatic relieves farmers from spending valuable time researching market trends and identifying best prices, allowing them to focus on larger-scale ideas, such as reaching global markets. "The most important thing in agricultural trading is knowing when buyers and sellers are looking to trade. And Tradomatic helps with that," said CEO & Co-founder Dennis Balon.

The platform has gathered 25,000+ users and 3,000+ buyers to move 5 million tons of crops (7% of all Ukraine crops sold per year) since its launch in 2018. Tradomatic plans to develop its full market ecosystem in Ukraine to include price discovery, market analytics, financing opportunities, and inputs buying by the end of 2021. In 2022, they are looking to test external markets in Africa, Europe, India, and South America.

"Our long-term goal is for Tradomatic to become a fully featured online marketplace that not only connects people, but also allows users to trade directly through the platform," said Dennis Balon.
Tradomatic was named Best Startup at the IT Arena 2020 Startup Competition, winning $10,000 from CRDF Global & IT Arena. The startup plans to invest the money in hiring sales managers and comprehensive research of the markets. 
AGRIEYE: Empowering Farmers to Farm Sustainably
AgriEye is helping farmers feed the world and fight land loss by bringing revolutionary AI technology to small and medium-scale farmers. With the help of autonomous drones and multispectral cameras, this company helps farmers predict and maximize crop yield and cut costs – helping to combat the issue of decreasing available land per capita in combination with the world's growing population.
Co-founders Daniil Lubkin, and Andrii Sevryukov, and Sergii Lubkin outline AgriEye's mission as twofold:
Empower Farmers Globally
AgriEye's global reach, combined with the power of satellites used in the world's most remote regions, sets it apart from other smart farming operations. "We are empowering communities who cannot afford other solutions regarding smart farming," said COO & Co-founder Daniil Lubkin. "Local farmers fuel local economies…So, supporting agricultural growth in developing countries will positively impact the local and national communities."
Popularize Sustainable Farming
Using historical data from satellites and prediction algorithms thanks to AI, AgriEye helps farmers measure the state of their land in a sustainable, affordable way. Farmers rely on satellite imagery rather than single-use plastic detection systems, therefore reducing their carbon footprint and the overall environmental impact of the agriculture industry.
In the future, AgriEye hopes small-scale farmers will be able to use this satellite data to aggregate funding from banks and other institutions. "Creating a fintech solution for banks looking to invest in agriculture will help farmers receive loans and guide investors to buy the land with the highest value," said Daniil Lubkin.
AgriEye received $12,000 from CRDF Global after winning first place at Ukrainian Hub's 2021 Global Pivot to Success Bootcamp.
AGRO BI: Using Business Intelligence to Educate Farmers
AGRO.BI is a business intelligence platform that uses high-precision drone imagery and original machine learning technologies to help farmers mitigate threats to crop yield and maximize profitability.
In 2014, Oleg Fedosenko and Kateryna Domchenko identified two common problems for medium- and large-scale agribusinesses in Ukraine:
There was no one service to comprehensively monitor the health of all crops in a field.
While many agribusinesses had access to machine learning systems, they lacked the business insights to maximize the information gathered to protect their crop yield.
Together, they formed a team of experts specializing in IT project management, machine learning, agribusiness management, and automotive marketing to help turn these images into insights, creating new industry standards for agribusiness in Ukraine.

"[AGRO.BI] has a quick ROI, as businesses can immediately use the results of this analysis to plan in-field operations," explained COO & Co-founder Kateryna Domchenko. "It allows for increased profitability by using precision inputs to save farmers up to 60% of their crop yield, optimizing the cost of fuels, fertilizers, and plant protection products." This also reduces the pressures of the agribusiness industry on the environment.
Looking ahead, AGRO.BI plans to develop an AI-powered farm robot that will use high-power electric discharges to stop invasive plants at their roots, negating the use of chemicals. "The combination of these two products will create a complex solution for weed management with a new edge," said Kateryna Domchenko.

AGRO.BI was one of four selected winners to receive $5,000 from CRDF Global at the 2020 Female Leadership Program, hosted in partnership with Ukrainian Hub. Learn more about AGRO.BI here and its parent company Horos.Tech here.
Technological creativity and efficiency in farming practices has become vital in response to the world's growing population and the diminishing amount of available land. These startups are using AI and AgTech tools to disrupt and reinvent Ukraine's agricultural industry. Combining IT and agriculture will improve Ukraine's economy and the livelihoods of its citizens, while creating an example of sustainable practices to improve food security around the world. CRDF Global is proud to support such initiatives through its Science and Technology Entrepreneurship Program (STEP), with funding from the U.S. Department of State.