CRDF Global Selected for CDC Award to Enhance Global Health Security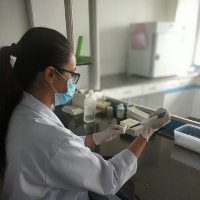 ARLINGTON, VA  — CRDF Global has received a five-year $25M award from the Centers for Disease Control and Prevention (CDC) Center for Global Health to enhance global health security.  This award builds on previous work that has helped partner countries and organizations around the world strengthen systems, networks, and human capacities to recognize and reduce the risks posed by biological threats.  
"The COVID pandemic has highlighted the importance of building public health systems that can prevent, detect, and respond to emerging disease threats, wherever they occur, before they become catastrophes. This means equipping the public health workforce in every country with the knowledge and tools for rapid disease detection and safe and reliable laboratory testing – and strengthening emergency management systems to coordinate immediate and effective actions when an outbreak appears," said Dr. Julie Fischer, CRDF Global's Senior Technical Advisor for Global Health.    
Continuing on CRDF Global's nearly 20-year partnership with CDC, this program will advance global health security by supporting host government partners in strengthening the infrastructure and workforce for laboratory systems, disease surveillance, and public health emergency management systems. The work will seek to improve prevention of avoidable epidemics and outbreaks, whether naturally occurring or otherwise.  By helping partners improve their abilities to detect and respond to biological threats, CRDF Global will help CDC and partner governments prevent future outbreaks from becoming pandemic threats. 
About CRDF Global  
CRDF Global is an independent, nonprofit organization dedicated to building a safer, healthier, and more secure world. A trusted government partner for over 25 years, CRDF Global designs and implements programs to solve global challenges in the areas of CBRNE security, global health, cybersecurity, strategic trade controls, and economic development. CRDF Global has provided technical assistance, trainings, logistical support, and program and financial management services to over 120 countries. The organization is headquartered in Arlington, VA, US, with regional hubs in Amman, Jordan and Kyiv, Ukraine.