CRDF Global Scales up the Use of Remote Learning Platforms to Meet Increasing Demands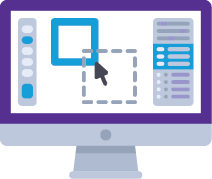 COVID-19 has been a sobering example of the importance of continuous, comprehensive trainings on threat prevention, preparedness, detection and response. The hard reality is that COVID-19 is just one of the many threats impacting the health and stability of our communities. As the world tries to recover, we must continue working on mitigating other emerging threats across the global health, CBRNE, cybersecurity, and counterterrorism spectrums.
So, how are we continuing to collaborate across borders to fight ongoing threats during a pandemic? The answer lies in our customized remote engagement platform, REDOX.
REDOX is a CRDF Global technical solution that provides remote capacity building trainings where travel is restricted or cost prohibitive. REDOX is a flexible platform that combines digital, remotely deployable educational material, live discussions and presentations, and on-site exercises or viewing events led by local subject matter experts (SMEs) around the world.
CRDF Global partners with our established network of diverse, highly qualified SMEs and in-country colleagues to develop training curricula, materials, and knowledge assessments for each target audience. Participants are then able to learn the material and complete quizzes at their own pace. Through REDOX, we have trained hundreds of industry experts in Iraq, Libya, Yemen, Somalia and Indonesia.
"CRDF Global is committed to continuing to deliver multisectoral, collaborative solutions to our partners because we strongly believe that working and learning together is the best way to build healthier, stronger communities. We are proud to help our customers and partners achieve their goals, despite the current challenges that we are all facing," said Khaled Bakleh, Director of New Business for CBRNE and Nonproliferation at CRDF Global.
In addition to India, CRDF Global will be launching upcoming REDOX trainings in the Middle East and North Africa.