CRDF Global Remembers Former Senator Richard Lugar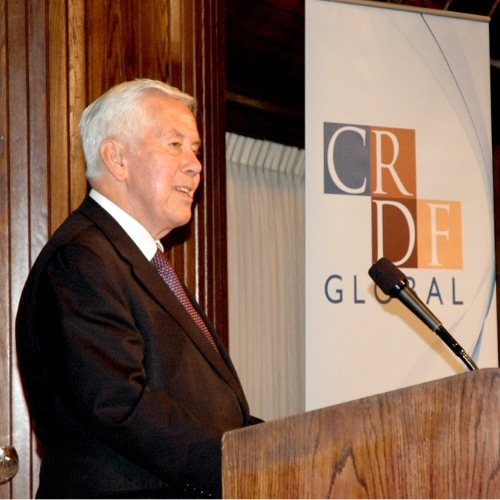 Statement from CRDF Global President and CEO Michael Dignam
It is with great sadness that CRDF Global reflects on the heroic life and legacy of Richard Lugar. He dedicated his life to public service and worked tirelessly to protect the security and wellbeing of people around the globe.  
CRDF Global owes its foundation to Senator Lugar's leadership in working across party lines to reduce the world's use, production, and stockpiling of nuclear, chemical, and biological weapons.  In 1991, he initiated a historic partnership with then-Senate Armed Services Committee Chairman Sam Nunn to secure and eliminate weapons of mass destruction in the newly independent states of the former Soviet Union. He also had the foresight to recognize the importance of engaging scientists in those countries to ensure that they had alternatives to selling their knowledge to rogue states. The Nunn-Lugar Cooperative Threat Reduction program provided critical funding to support nonproliferation and redirection efforts to make the world safer and more secure. This program, combined with the first Freedom Support Act of 1992, paved the way for CRDF Global's emergence in 1995.
CRDF Global will continue to honor Lugar's legacy and his commitments to innovation, leadership, and collaboration to improve our world. He has inspired us to always remember that despite our differences, we must work together to make tomorrow better for generations to come.
Rest in peace, Senator Lugar.  We thank you for your service.