CRDF Global Joins Gender Champions in Nuclear Policy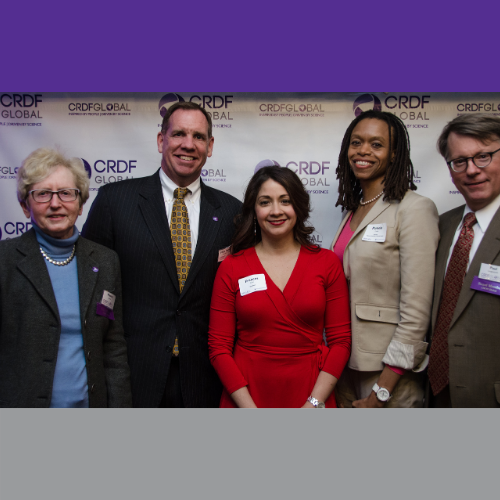 CRDF Global is pleased to announce its membership into Gender Champions in Nuclear Policy (GCNP). The initiative brings together leaders of organizations working in nuclear policy who are committed to break down gender barriers and make gender equity a working reality in their spheres of influence. CRDF Global's CEO, Michael Dignam, will represent the organization as a Gender Champion. Dignam will lead the organization in the following commitments:
Whenever possible, CRDF Global-sponsored events will not include single-gender panels.*
CRDF Global will actively solicit participation from women and other diverse communities in all CRDF Global activities, such as consulting assignments, panel discussions, workshops, trainings, grant competitions, fellowship programs.
CRDF Global will implement gender, diversity, and inclusion training as part of its recurring employee training for all staff.
* In certain circumstances, CRDF Global may determine that a particular event is critical enough that they would have to organize a single-gender panel.
Joining the GCNP is one of several CRDF Global initiatives that promote the active involvement and leadership of women in STEMM and CBRNE security. In 2012, CRDF Global launched the Robin Copeland Memorial Fellowship to provide women leaders in emerging countries the opportunity to participate in a multi-faceted, year-long nonproliferation fellowship. Starting in 2015, CRDF Global has held annual Breaking Barriers events to support the advancement and inclusion of women in STEMM and national security. In 2020, the Breaking Barriers event series led to the publication of a best practices guide to identify, examine, and explore barriers that women experience when pursuing careers in STEMM and security. The guide, available in English, Russian, and Arabic, includes tangible steps that organizations can implement to foster more inclusive and diverse work environments.
"I am extremely proud to represent CRDF Global as a Gender Champion in Nuclear Policy. Leadership from women in STEMM and national security have played a significant role in our organization's history, starting with the distinguished career of Robin Copeland and extending to current members of our Board of Directors and leadership team. Innovative solutions to today's challenges in international peace and security, climate, economy, global health, and social justice require critical perspectives from women and diverse groups," said Dignam.