CRDF Global Helps Jordan Replace Cesium Medical Devices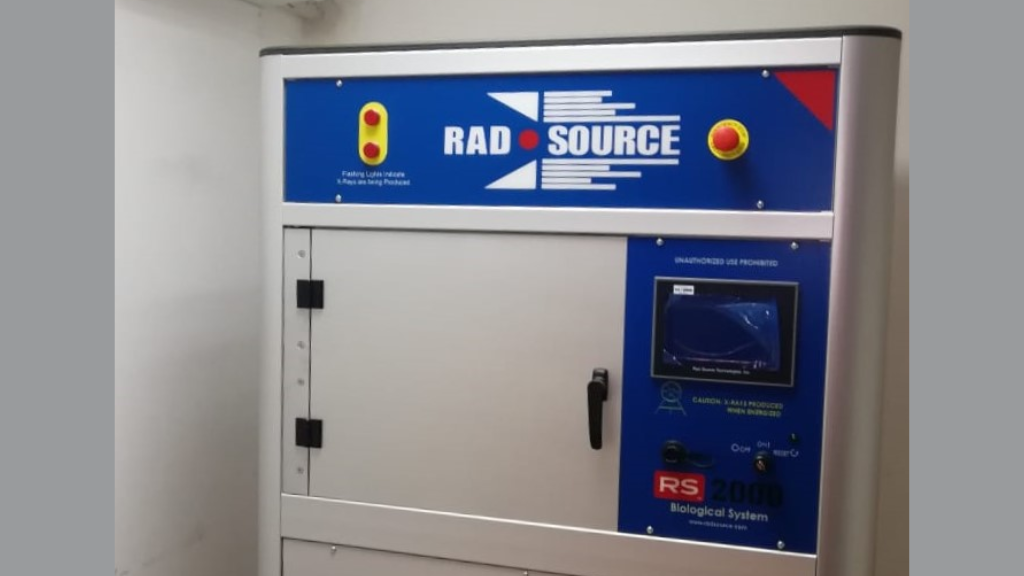 The blood used by hospitals for life-saving transfusions must be sterilized to prevent potentially fatal consequences. Since the 1950s, the radioactive isotope Cesium-137 has been used as a blood irradiator. Medical facilities around the world host hundreds of these devices.

Cesium-137 has a half-life of 30.2 years and remains radioactive for approximately 180 years. If a device containing this material is not properly secured, the results can be dire. In 1987, a small lead container containing Cesium-137 from a blood irradiator was found at an abandoned cancer center in Goiana, Brazil and sold to a junkyard, where it was opened by an employee. Not understanding the danger of the radiant blue glowing dust it contained, residents spread Cesium-137 throughout their community. Within a week, four people were dead, 54 were hospitalized, and 244 were contaminated from the radioactive material.

International security experts became increasingly concerned about the possibility of a terrorist organization targeting these sources of radioactive material for use in a weapon or attack. "Any type of RDD [radiological dispersal device] which includes cesium-137 could cause immediate casualties from the blast, as well as widespread panic, economic disruption, long-term evacuations, exorbitant decontamination costs, casualties from cancer, and overwhelming psychological damage," nuclear terrorism expert Dr. Sara Z. Kutchesfahani wrote for The Hill in 2018.

To reduce this risk, the U.S. Department of Energy's Office of Radiological Security (ORS) launched the Global Cesium Security Initiative (GCSI) to promote the use of non-radioisotopic alternative technologies.

Jordanian Health Institutes Join the Global Cesium Security Initiative

In 2019, CRDF Global was selected by ORS to help implement the GCSI in Jordan. CRDF Global partnered with the Jordanian Energy and Minerals Regulatory Commission (EMRC) to procure non-radioisotopic alternatives for blood irradiators at three medical facilities: the University of Jordan Hospital, the Jordanian Cell Therapy Centre, and the King Abdullah University Hospital.
"The GCSI is a voluntary program that allows for each institute to dictate their own technical requirements for irradiating blood at their facilities," said Nour Anis, CRDF Global Regional Director. "The leaders of these facilities had to be confident that replacement irradiators would meet their needs as well as international radiation safety guidelines and Jordanian regulatory requirements."

Yazan AlWashah, senior project lead, worked the details: "For the new X-ray blood irradiator to be used correctly, we had to modify each site to create the necessary changes and technical enhancements to ensure proper functionality. We also supported host institutes in their transition and acceptance of new technology by conducting a manufacturer-certified operator training for all end-users and maintenance teams at the three host institutes."

For these three facilities, CRDF Global was able to install the X-ray irradiators ahead of schedule, narrowly beating the outbreak of the COVID-19 pandemic and lockdown.
Other Cesium-187 irradiators exist in the Middle East region, and CRDF Global hopes to utilize its experience in Jordan to continue to support the Global Cesium Security Initiative.

About ORS
The Office of Radiological Security (ORS) works with government, law enforcement, and businesses across the globe to protect radioactive sources used for medical, research, and commercial purposes; remove and dispose of disused radioactive sources; and reduce the global reliance on high activity radioactive sources through the promotion of viable non-radioisotopic alternative technologies.

About CRDF Global
CRDF Global is an independent nonprofit organization that promotes safety, security, and sustainability through science and innovation in over 120 countries. Established in 1995, CRDF Global provides flexible logistical support, trainings, technical assistance, program design and management, and strategic capacity building programs in the areas of higher education, CBRNE security and nonproliferation, border security, cybersecurity, global health, technology entrepreneurship, and international professional exchanges.