CRDF Global Breaks Geographic Barriers at its 7th Annual Event to Promote Gender Equity in Science and Security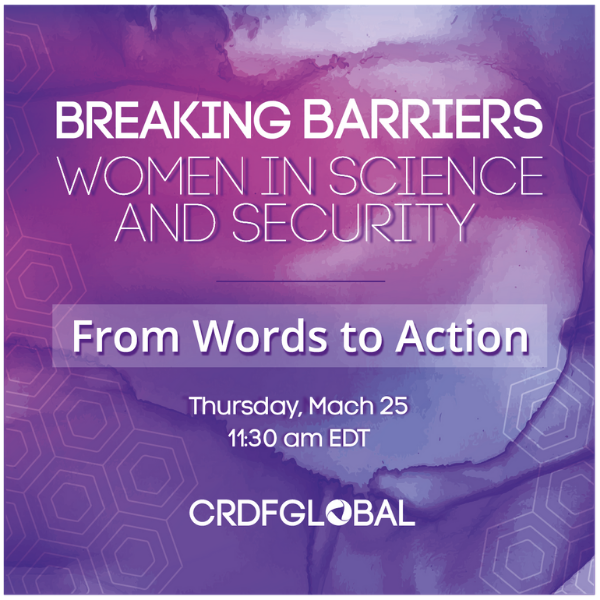 This March, CRDF Global hosted two webinars as part of its seventh annual Breaking Barriers event. The first, hosted by CRDF Global's Eurasia hub in Kyiv, Ukraine on March 16, analyzed gender-based barriers and best practices to foster female leadership positions. The second, broadcast from CRDF Global headquarters in Arlington, Virginia on March 26, explored avenues leadership can take to move beyond intentions and take concrete actions to advance women's careers in science and security. Both events were spearheaded by CRDF Global's Women in Science and Security initiative and gathered stakeholders from around the world to engage, analyze, share experience, and identify solutions to gender-based barriers for women in these fields.
Bryan Furman of the U.S. Embassy in Ukraine Cultural Affairs Office and Olga Streltsova, Senior Project Lead in CRDF Global's Ukraine office, opened the first event on March 16. This webinar – the first Breaking Barriers event held outside the United States – provided a new space to examine gender-based barriers in the cultural, political, and social contexts of Eurasia.
Adriana Arekhta, a veteran of the Russo-Ukrainian conflict in Donbass and Leader of the Women's Veteran Movement in Ukraine, spoke on the differences she and her male colleagues experienced while fighting for their country. Although Adriana worked alongside her male comrades to liberate cities of Eastern Ukraine, she was registered as a seamstress, rather than soldier, as women were not allowed to have official military rank.
Kateryna Terletska, Senior Researcher and Doctor of Physics and Mathematics, received her first research grant from CRDF Global to study internal solidarity wave transformation (the physics of fluids). She also shared examples of little-known women scientists who made life-changing contributions to science and stressed the importance of increasing the number of role models for girls interested in the field.
Other Speakers included:
Dominique Piotet – CEO of UNIT.City, the first Ukrainian innovation park
Kimberly Ma – Project Lead on CRDF Global's Women in Science and Security initiative
Olha Pasko – Head of Information Security Division, Ukreximbank
Stefania Ivashchenko – Chemist; PhD in Biological Sciences
Olga Kurna – Philosopher; educational expert; and feminist activist
Oksana Prykhodko – Derzhspetszviazok (State Service of Special Communications and Information Protection of Ukraine)
Maryna Saprykina, founder of Girls in STEM Ukraine, called on all Ukrainian women in STEM to promote the environment of providing mentorship and role models for young girls, summing up the close of the event with, "The world needs science. Science needs women."
Susan King, Director of Strategic Trade Controls and Border Security at CRDF Global, opened the March 26 Arlington event on a similar note. "The importance of positive role models is well-documented. It is hard to be what you cannot see." More than 140 people from around the world participated.
Jill Hruby, former Director at Sandia National Labs and the first woman to lead a U.S. national lab, drew from her personal experience as a female in a STEM leadership position in her keynote address. Throughout her successful career at the lab and elsewhere, from serving as Vice President of the Energy, Nonproliferation, and High-Consequence Security Division, to overseeing national security missions in nuclear weapons and cyberspace, to authoring numerous publications, she admitted that proving her technical credibility was a constant battle. She also noted that when she felt her opportunities within the lab were too limited, she sought other activities to expand her network and knowledge of the system. These included serving on advisory committees for universities and government agencies, contributing to national academy studies, and editing journals.
She advised women in the field to "accept as many opportunities as you can…and find something that you enjoy in every job you do. Embrace the diversity that teamwork brings and do your best to make sure that all voices at the table are heard."
Kathy Dimeo, newly appointed COO at CRDF Global and former President at Navitas Clinical Research, Inc., moderated a discussion with the following panelists to identify outstanding obstacles that organizations face in shifting gender equity work from words to action.
Nick Roth, Director of the Nuclear Security Program at the Stimson Center, International Nuclear Security Forum
Dr. Julie Fischer, Senior Technical Advisor for Global Health at CRDF Global and Chair at the Global Health Security Agenda (GHSA)
Simone Williams, Program Manager at the Leadership Council for Women in National Security
Erin Connolly, Associate Program Director at Girl Security
Attendees explored solutions to these obstacles as they joined the panelists in breakout rooms focusing on: COVID-19 and the workplace; being an ally; the importance of the high school pipeline; intersectionality in diversity and inclusivity; women in leadership; and how to overcome mid-career plateaus.
CRDF Global also took this opportunity to announce their joining of the Nuclear Threat Initiative's Gender Champions in Nuclear Policy (GCNP). GCNP is a leadership network that brings together heads of organizations working in nuclear policy who are committed to breaking down gender barriers and make gender equity a working reality in their spheres of influence. CRDF Global looks forward to working with the GCNP network to expand mentorship, visibility, and community among women working in national security.
CRDF Global's third and final event of its 2021 Breaking Barriers series will take place from the organization's Middle East North Africa hub in Amman, Jordan in later April.
---
Watch the keynote address and panel discussion: