Celebrating World Entrepreneurs' Day with Ukrainian Start-up Pix Inc.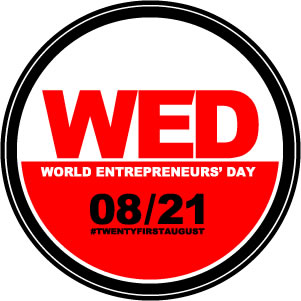 On this World Entrepreneurs' Day, we are celebrating the inspiring work of the entrepreneurship community in Ukraine. This entrepreneurial spirit is driving individuals to contribute to the ongoing growth and development of the country's economy.
For over 20 years, CRDF Global has looked for ways to foster economic growth through innovation. Our Science and Technology Entrepreneurship Program (STEP) has accelerated the growth of promising early-stage companies around the world by providing development grants, mentorship, and access to investment communities and industry leaders. In Ukraine, the STEP program has helped over 500 students, faculty, and aspiring entrepreneurs. To date, STEP has helped 10 Ukrainian ventures create 30 fulltime jobs.
In October of 2018, Margaret Rimek and her Ukraine-based company Pix Inc., won a STEP award at a CRDF Global startup competition in Ukraine. Pix is the first digital and customizable backpack that can be modified through a smart phone app. This unique design enables images to appear through a built-in LED screen and visual options range from a variety of content available in the IOS/Android app "Pix Backpack". The backpack app design has content to include pixelized images, animations, widgets, and even games like Tetris. The backpack's customization feature, a quality attracting a wide array of customers, gives Pix. Inc. an edge over competitors in this field.
Pix Packpack. Image Courtesy of Pix Inc.
 
Margaret came up with the product idea after realizing that there was no universal accessory for highlighting personality in a fast and easy way. Pix helps consumers communicate their individuality to the world. A growing start-up, Pix attracts customers with their fun, individualized, and creative brand.
"We have more than 3000 customers wearing Pix backpacks on the streets already. They have been sharing with us numerous amounts of positive feedback on how Pix helps them stay visible and unique. Our customers most of all like to create their own content and play games on the Pix Backpack," said Margaret.
Pix launched on Kickstarter and Indiegogo, with an initial goal of raising $35,000. They quickly surpassed this goal, raising over $330,000 from both platforms, with almost 600 backers on Kickstarter alone. Pix recently launched their new product, Pix Mini, a smaller backpack that allows children to express their individuality with self-made artwork and share their creations with friends.
"The best thing about being an entrepreneur is the feeling that you're bringing something new to the world. My piece of advice to tech entrepreneurs: do not stop creating new products and features. It's all about moving forward and providing your clients with new surprises. Being an entrepreneur in Ukraine is amazing. We have so great community here, in Kyiv, so much expertise that can help you build a better product," said Margaret.
Be sure to check out their product and website at: https://www.pix.style/