Celebrating International Women's Month with TB Researchers, Dr. Lydia Nakiyingi & Dr. Hairong Huang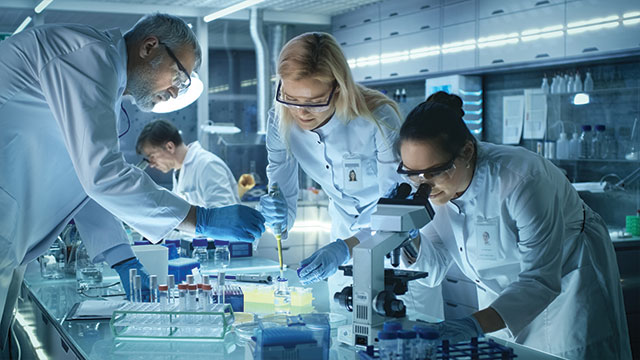 According to the UNESCO Institute for Statistics, women account for less than 30% of the world's researchers. Reports also identify gender discrimination as one of the leading deterrents against women entering and excelling in fields relating to science, technology, engineering, and mathematics (STEM). In honor of International Women's Month, we wanted to hear from some of our past National Institute of Allergy and Infectious Diseases (NIAID) fellows to learn their opinions on what barriers exist for women in STEM fields today, best practices to address those challenges, and how to alter the future of women in previously male-dominated fields by encouraging future generations to pursue leadership positions. Throughout the month of March, we will be highlighting these women and sharing their challenges and successes as equal contributors to the field of research.
This week, in recognition of World Tuberculosis Day, we highlight the continued perseverance in advancing tuberculosis (TB) research by two of our past fellows who have dedicated significant portions of their careers to helping end this devastating disease. Dr. Huang and Dr. Nakiyingi each participated in the Regional Prospective Observational Research for Tuberculosis (RePORT) fellowship in 2018 and 2015, respectively. NIAID created the RePORT International program to meet the wide range of TB research demands, from providing basic research, to identifying biomarkers that accurately predict outcomes of TB, to measuring the effectiveness of new tools and strategies to fight the disease. RePORT International represents a consortium of regional cohorts (RePORT India, RePORT Brazil, RePORT South Africa, RePORT Indonesia, and RePORT China) that each support local in-country research needs, while working together to produce a greater global research capacity to end TB.
"As a woman scientist in this predominantly male-dominated research and academic environment, I faced several challenges, mainly gender-based, which could easily have deterred my advancement in the field of research. Among these were: difficulties in balancing a research career and personal life, including motherhood; a lack of mentorship [opportunities] for women; limited training opportunities offered to women; and societal attitude and beliefs towards women in science, academics, and research. However, with determination, I was able to persevere and pursued my goal of becoming a researcher."- Dr. Nakiyingi
Dr. Huang is a professor at the Beijing Tuberculosis & Thoracic Tumor Research Institute at Beijing Chest Hospital. She has also served as Director of National Tuberculosis Clinical Laboratory of China, China CDC, as well as a member of the Strategic Advisory Group of Experts on In Vitro Diagnostics (SAGE IVD) with the World Health Organization (WHO). Throughout her career as a tuberculosis biologist, she has authored and co-authored over 90 publications in China and abroad. In 2018, she received the RePORT International fellowship, where she served at the principal investigator on her research project, "BCH: Dynamic detection of cytokines by liquid chip technology to evaluate the efficacy of anti-tuberculosis treatment."
 
 
 
Dr. Nakiyingi is an infectious disease physician, a clinical researcher of the Infectious Diseases Institute (IDI), and a senior lecturer at Makerere University College of Health Sciences in Kampala, Uganda. She has been directly involved in TB research for over 10 years and has personally led several TB diagnostics evaluations that were later rolled out for use by the WHO. In 2015, she served as a TB researcher for RePORT South Africa, an initiative co-sponsored by NIAID and the South African Council of Medical Research. During this time, she designed and conducted her research project, "UGANDA: A Triage Strategy for TB Based on Inflammatory Biomarkers and Mycobacterium Tuberculosis-Specific Serologies."
In your opinion, what changes – if any – are needed in the scientific system to attract more women scientists?
Dr. Huang: "Equal opportunity between genders for salary, promotion, grant applications, and other things."
Dr. Nakiyingi: "Determination is critical for women to take on sciences. Programs should work on instilling confidence in women about sciences at an early age. Programs should target girls in lower levels of school. The attitude towards women should change, especially in societies and countries where the field of sciences is still dominated by men. Women should be encouraged to participate in science-related disciplines, and existing women scientists should be encouraged to take on leadership positions so as they can put in place policies that support women. Mentorship is key in promoting women scientists. Senior women scientists should be utilized to mentor other women. Training opportunities specifically targeting women should be offered as a priority."
What makes you most proud about being a woman in your field?
Dr. Huang: "I can make the same or even more [of a] contribution to important issues of tuberculosis control in China as an outstanding male colleague."
Dr. Nakiyingi: "I am among the few women scientists in Uganda pursuing an Academic and Research career, and my research area of interest is tuberculosis and HIV. I have led implementation of several tuberculosis research projects in Uganda, and some of the findings have influenced policy change, particularly in tuberculosis diagnosis in resource-limited settings. My active involvement in research has made me an internationally recognized independent researcher in the field, and I have been able to compete favorably for international funding. I hold professional and non-professional leadership responsibilities in Uganda, and my goal is to grow to the highest academic and research positions at Makerere University. I have made several scientific presentations at international conferences, some as an invited speaker. I am involved in training and mentorship of junior researchers at Makerere University with the aim of building clinical research capacities at my institution. As a woman researcher, I support several mentorship activities in Uganda that aim to promote women in science and leadership. Seeing many female junior scientists looking up to me as their idol makes me feel proud as a woman researcher in my country."
What was your experience finding your first professional position?
Dr. Nakiyingi: "As a woman scientist in this predominantly male-dominated research and academic environment, I faced several challenges, mainly gender-based, which could easily have deterred my advancement in the field of research. Among these were: difficulties in balancing a research career and personal life, including motherhood; a lack of mentorship [opportunities] for women; limited training opportunities offered to women; and societal attitude and beliefs towards women in science, academics, and research. However, with determination, I was able to persevere and pursued my goal of becoming a researcher."
 
 
What advice do you have for women scientists starting out in their careers?
Dr. Huang: "Keep on going! At the beginning, it could be hard, but things will get better and better once you insist on making progress."
Shown left: Dr. Huang at a meeting for the WHO Strategic Advisory Committee on in Vitro Diagnostics (SAGE IVD) with other participants from the Essential Diagnostic List (EDL) composition.