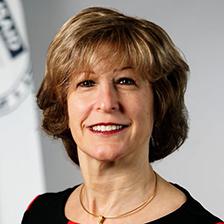 Board of Directors
Bonnie Glick is a transformational senior executive and former public official with over 25 years of government, corporate, international, board, and nonprofit experience. Ms. Glick currently serves as the inaugural Director of the Krach Institute for Tech Diplomacy at Purdue, the nation's first "tech tank." Prior to her appointment, she most recently served as the Deputy Administrator and Chief Operating Officer of the U.S. Agency for International Development, the world's premier bilateral donor. She ran an agency of 11,000 staff located in over 100 countries with an annual budget of over $20 billion.Throughout her career, Ms. Glick has focused on leading transformational organizational change, planning for future challenges, and addressing environmental, social, and governance (ESG) and geopolitical issues. She has extensive international experience as a C-suite executive and with diverse stakeholders across a wide range of industries.
Ms. Glick is a Senior Advisor at the Center for Strategic and International Studies and a Fellow in the Harvard Kennedy School of Government's Institute of Politics. She has served on several non-profit Boards of Directors, is a well-respected keynote speaker, and serves as Vice Chairman of the Board of Folkson Farms, a Nebraska-based agriculture enterprise. She sits on the Advisory Boards of several private companies. She holds a Top Secret/SCI security clearance.
Ms. Glick's experience spans public, private, and non-profit sectors. She previously served as the Deputy Secretary of the Maryland State Department of Aging, as Senior Vice President of Meridian International Center, as a Global Business Development Executive with IBM, and as a Foreign Service Officer (Diplomat) in the U.S. Department of State. She was appointed by the Governor of Maryland to serve on the Board of Trustees of St. Mary's College of Maryland. She has been called as an expert witness to testify before Congress multiple times and has delivered keynote addresses in over 20 countries.
Ms. Glick earned her B.A. in Government/International Relations from Cornell University, her M.A. in International Affairs from Columbia University, and her MBA from the Robert H. Smith School of Business at the University of Maryland.
Ms. Glick speaks seven languages and has co-authored three patents related to microelectronics and the semiconductor industry.