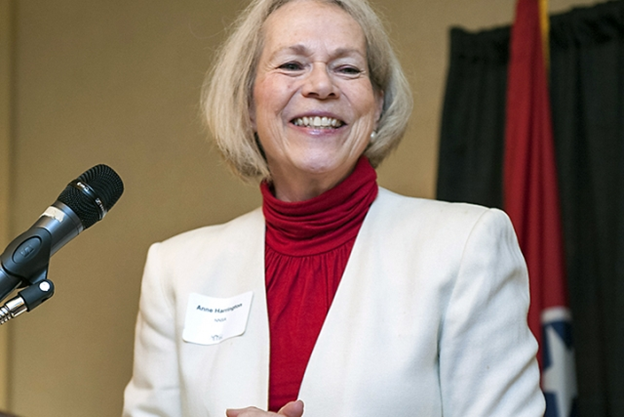 Anne Harrington served as the Deputy Administrator for Defense Nuclear Nonproliferation for the National Nuclear Security Administration from 2010-2017.
Prior to her time with the NNSA, Ms. Harrington was the Director of the U.S. National Academy of Sciences Committee on International Security and Arms Control (CISAC). While at CISAC, she managed several key studies on a variety of nonproliferation, threat reduction and other nuclear security issues.
Ms. Harrington served for 15 years in the U.S. Department of State, where she was Acting Director and Deputy Director of the Office of Proliferation Threat Reduction and a senior U.S. government expert on nonproliferation and cooperative threat reduction. She has dedicated much of her government career to developing policy and implementing programs aimed at preventing the proliferation of WMD and missile expertise in Russia and Eurasia, and also launched similar efforts Iraq and Libya. Her State Department assignments include serving as the U.S. senior coordinator for efforts to redirect former Soviet WMD/missile experts 1993–1998. She was instrumental in negotiating the agreements that established the International Science and Technology Center (ISTC) and the Science and Technology Center in Ukraine (STCU), and the agreement between the United States and Kazakhstan for the secure storage of spent fuel and safe shutdown of the Aktau BN-350 breeder reactor.
Ms. Harrington has authored and co-authored a number of papers on countering biological threats. She graduated with a Bachelor of Arts degree from St. Lawrence University, a Master of Arts from the University of Michigan, and a Master of Science from the National Defense University National War College.