Five Years after the launch of GHSA, Ambassador Bonnie Jenkins Outlines What's Next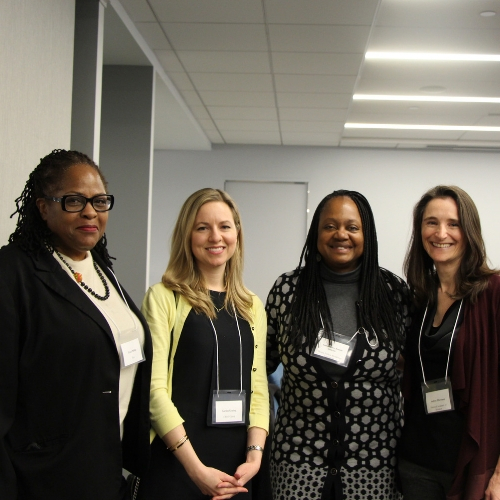 On Thursday, March 28, 2019, CRDF Global convened global health experts and key stakeholders for an evening full of collaborative discussion and relationship building to further bolster the exceptional efforts of the Global Health Security Agenda (GHSA). Attending the evening's event were participants of the U.S. State Department's International Visitor Leadership Program (IVLP) and representatives of various global health related institutions whose expertise and long-time application of global health security yielded lively dialogue with the keynote speaker. CRDF Global proudly welcomed Ambassador Bonnie Jenkins to lead discussion and provide remarks for the program. Ambassador Jenkins' expansive background in areas such as peace, security, foreign policy, and global health paved the way for professional achievements such as establishing the nonprofit organization Women of Color Advancing Peace, Security and Conflict Transformation (WCAPS), serving as a nonresident senior fellow at the Brookings Institution, holding executive positions at WCAPS and Global Connections Empowering Global Change LLC., and leading implementation efforts of the GHSA in the United States.
The GHSA-focused event invited IVLP participants, key stakeholders, and Ambassador Jenkins to engage in discussion of global health security matters, achievements in the field, and areas of improvement. Approaching its 6th year, the GHSA has worked to strengthen international efforts in prevention, detection, and response of pathogenic threats through global partnerships and collaboration. Despite the great strides the GHSA has achieved, gaps in global communication methods remain a prominent issue and only about 30% of countries are equipped to combat the spread of infectious diseases. In her remarks, Ambassador Jenkins presented key goals necessary for addressing the gaps and for the development of the broader global health scope. The principal goal addressed promotion of global coverage of GHSA through increased country buy-in, governmental interagency involvement, inclusion of international organizations, and mobilizing the non-governmental sector. The group noted that communication with a variety of governmental and non-governmental players will inherently address other goals targeted at improving national and international policies and logistics, promoting value of education and participation, and shifting focus to One Health initiatives.
The conversation centered around ensuring effective operations of the GHSA by increasing the focus on preparation and prevention through expansion of biosecurity and biosafety measures. Encouraging organizations and governments to dedicate greater attention to biosecurity and appropriate a reliable funding stream is pivotal to enhancing GHSA efforts.  Achieving such goals would largely improve international ability to prioritize issues such as animal and food safety, antimicrobial-resistance, and outbreaks of infectious agents. Lastly, these actions would allow for wider implementation of Joint External Evaluations and other mechanisms to improve health and biosecurity capacities as well as evaluate existing systems to identify potential risks within the global community.
The evening's event provided a platform for individuals from various global health backgrounds to collaborate and share their experiences in effort to maintain the tremendous momentum the GHSA has accumulated. In the spirit of multisectoral collaboration, the event concluded with an opportunity for the attendees to network and to build impactful global health security relationships.   
 
Janna joins CRDF Global as the Health and Biosecurity Operations Intern where she provides support to the team's project implementation and management needs.  During her time at CRDF Global, Janna is pursuing her Master of Public Health with her sight set on contributing to the health landscape through improved surveillance, education, and prevention methods to address pressing health issues facing the global population.