Exchanging Our Way to a Better World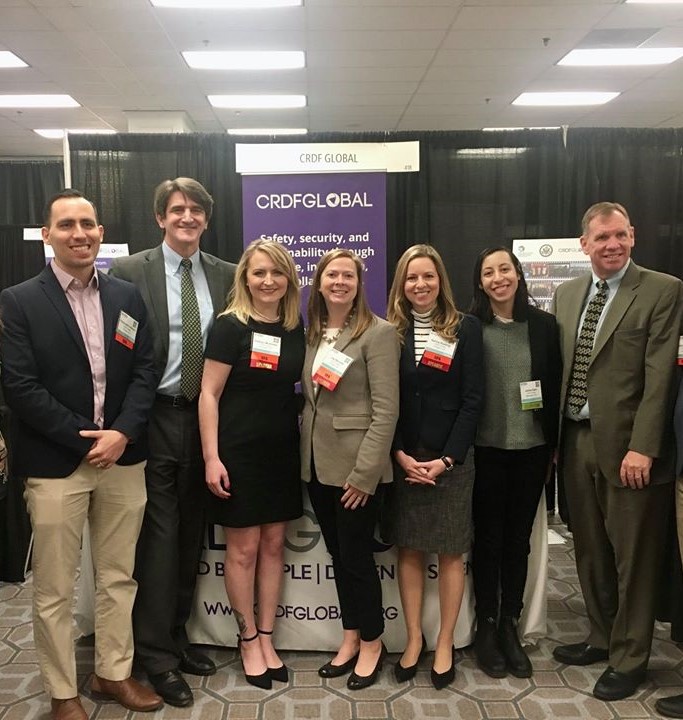 CRDF Global – along with more than 900 government agency representatives, advocates, and leaders in the international exchange field – attended the Global Ties U.S. 2020 National Meeting from January 22-25 at the Marriott Wardman Park Hotel in Washington, DC. The four-day conference hosted over 50 sessions examining the role of professional exchange programs in advancing U.S. foreign policy objectives, addressing shared global challenges, and ultimately creating a more peaceful, connected world.
Each year, the National Meeting brings together global leaders in the exchange industry to examine emerging trends, engage in professional development opportunities, and share their stories as global citizen diplomats. From national programming agencies and locally-based hosts, to volunteers and liaisons, to IVLP alumni, these "faces of exchange" embody the unparalleled impact exchange programs have on a global scale. The 2020 National Meeting also launched a year-long campaign to celebrate 80 years of the International Visitor Leadership Program (IVLP), the State Department's premier professional exchange program.
CRDF Global joined the Global Ties U.S. network in 2018 and currently serves as one of the State Department's eight implementing partners of the IVLP, collectively referred to throughout the network as national programming agencies (NPAs). "The IVLP is one of the most long-standing and successful programs at the State Department," says CRDF Global President & CEO Michael Dignam on the decision to join the network. "The scope of work providing exchange programs for international participants was a service offering that we had a tremendous amount of experience with through our past work…we saw a great opportunity to bring value to the State Department that was a complement to other programs."
Although CRDF Global was no stranger to foreign assistance programs – originally created in 1995 to rescue the displaced scientific community of the post-Soviet era and support collaboration between U.S. and former Soviet scientists on civilian-oriented projects – its induction into the IVLP network marked its first step into an entirely new realm of public diplomacy. In the past two years, the CRDF Global IVLP team, led by Program Manager and Team Lead Karina Keating, has worked with community-based members (CBMs) around the country to bring 384 visitors from 74 countries to 43 states, earning them national recognition as faces of exchange who create impactful and memorable experiences for international visitors. Project Lead Lisa Bennett and Program Associate Katelyn McAlister each received nominations for Excellence in IVLP Programming at the Awards Breakfast on Friday, January 24th.
"For the first time, I saw myself as a part of something global – something greater than myself or my community. For the past 14 years, I have continued to chase this feeling and deepen this understanding."
Growing up a "third-culture kid" – a person raised in a culture other than their parents' or the culture of their nationality for a significant portion of their early developmental years – Keating can attest to the long-standing educative benefits of an early introduction to cultural diversity. Now an international exchange professional with over 12 years of experience managing study tours and exchanges, Keating recalls her discovery of the IVLP as that thing she had been looking for to kickstart her career. "It was definitely one of those defining 'aha moments,'" she recalls. "I had sudden clarity on how to articulate what I was looking for in a career as well as how to pursue it."
She recalls how her parents – from Europe and the Middle East, respectively – made a home for themselves and for their children in a city that was foreign to them and a culture that did not inherently belong to any of them. "It always struck me that whatever differences people may have had abroad, Dubai seemed to serve as this common ground where people could look beyond politics and normal divides and consider instead how to work together. As a teen, this spurred my interest in moving to Washington, DC to study International Affairs and in some way, help create common ground and bring people together."
Bennett joined CRDF Global in 2018, bringing more than 10 years of experience in higher education administration focusing on student-centered leadership initiatives, social justice advocacy, and cross-cultural engagement through international programs. By the time she started working on the IVLP, she had developed and facilitated global exchange trips in Brazil, Israel, Kenya, Singapore, Turkey, and the United Kingdom. After such powerful experiences abroad, Bennett appreciates that she can now give back to the industry and its participants by sharing the values and culture of her own country.
"The most rewarding part of my job is contributing to the success of these transformative exchanges by fostering lasting partnerships across a range of industries. I appreciate the opportunity to support these leaders, as they seek to amplify the impact of their exchange and bring positive change to their communities around the world," says Bennett.
McAlister got her first taste of international exchange as a People-to-People Student Ambassador traveling to the United Kingdom. "I was in 6th grade and I had never left the United States. In fact, this was the first time that a member of my family had ever left the United States, aside from those who had served in a war," she recalls. "You can imagine how excited myself and my family felt knowing that I would get to see the world and gain insights about other governments, other customs, and new cuisines. In truth, I learned so much more, including so many things about myself. For the first time, I saw myself as a part of something global – something greater than myself or my community. For the past 14 years, I have continued to chase this feeling and deepen this understanding."
McAlister chased that feeling throughout her time at university, where she studied abroad in Poland to learn first-hand about the Holocaust and its victims – unearthing a passion for international human rights law and the desire to find a career that would allow her to stand on the right side of history. That drive quickly landed her a job at the International House, a CBM of Global Ties U.S. located in Charlotte, North Carolina. Here, she gained unique insight into the ways a local program can shape a visitor's perspective. "I got to meet the visitors and spend days with them, getting to know them, learning about their passions, and even hearing about their families. They aren't names on a paper to me, they're real people, and we play a very critical role in their personal and professional development."
IVLP Alumni Runcie Chidebe and Maeza Ashenafi are a couple of those faces on the other side of exchange. Their work as a leading voice in healthcare equality and a women's rights activist and lawyer, respectively, demonstrates the unique abilities of foreign exchange programs to confront shared global challenges. Both alumni spoke at the National Meeting about the importance of such programs, sharing unique anecdotes on how their experiences with international exchange have shaped their lives.
Global health innovator and recipient of the 2020 IVLP Alumni Award for Social Innovation and Change, Chidebe spoke at the Citizen Diplomacy Luncheon on Thursday, January 23rd.  The cancer control advocate and civil society activist founded Project PINK BLUE, a cancer-fighting organization the provides professional education for doctors and nurses, free screenings, and treatment support for patients and their families – its mission: an Africa without late detection of cancer.
"For some [international visitors], assumptions of the United States are challenged, and they leave with a greater understanding of our country. For others, the impact is more tangible, and they have direct ideas or projects that they seek to establish upon their return that will improve their work."
At the luncheon, Chidebe attributed his participation in the 2016 IVLP project, "Inspiring Leadership and Civic Participation," as one of the most significant experiences of his life. While in the states, he made connections with organizations and individuals that would allow him to start the first ECHO (Extension for Community Healthcare Outcomes) palliative online training program for nurses in Nigeria, as well as translate cancer awareness materials from English to various local languages.
First female Federal Chief Justice of Ethiopia and Keynote Speaker, Ashenafi spoke with other groundbreaking women from the government, education, and journalism sectors on the panel, "We Are All Equal Under the Law – The Role of Women in Defending Human Rights and Democracy," at the Luncheon with the Ambassadors on Friday, January 24th.
After visiting the U.S. as a young, early-career lawyer in 1997, she pulled from her experiences abroad to co-found Ethiopia's first bank dedicated to women's empowerment and help create the first Amharic word to describe sexual assault, thereby reforming Ethiopia's legislative treatment of sexual harassment cases. Ashenafi's actions in defending – and quite literally defining – women's rights in Africa are inspiring the next generation of female lawyers and paving the way for women around the world to break barriers in their respective disciplines and across national borders.
Together, these citizen diplomats, along with thousands of others around the world, are sparking forward-looking change on a global scale. Professional exchange programs such as the IVLP initiate this impact on an individual level by forging long-lasting relationships between all involved parties and providing international visitors with new understandings and ideas to bring to their home countries. "The network of professionals we introduce [the visitors] to is not meant to be a once and done, rather we encourage them to reconnect and see what partnerships can come of the experience," says Bennett. "For some, assumptions of the United States are challenged, and they leave with a greater understanding of our country. For others, the impact is more tangible, and they have direct ideas or projects that they seek to establish upon their return that will improve their work." Creating open environments for professionals of like and unlike minds to share their understandings and challenge each other's preconceived ideas is a leading priority of the IVLP, and one that has shown to have a positive global impact time and time again.