Event Recaps
Effective chemical supply chain security in practice: CRDF Global examines global challenges in the supply chain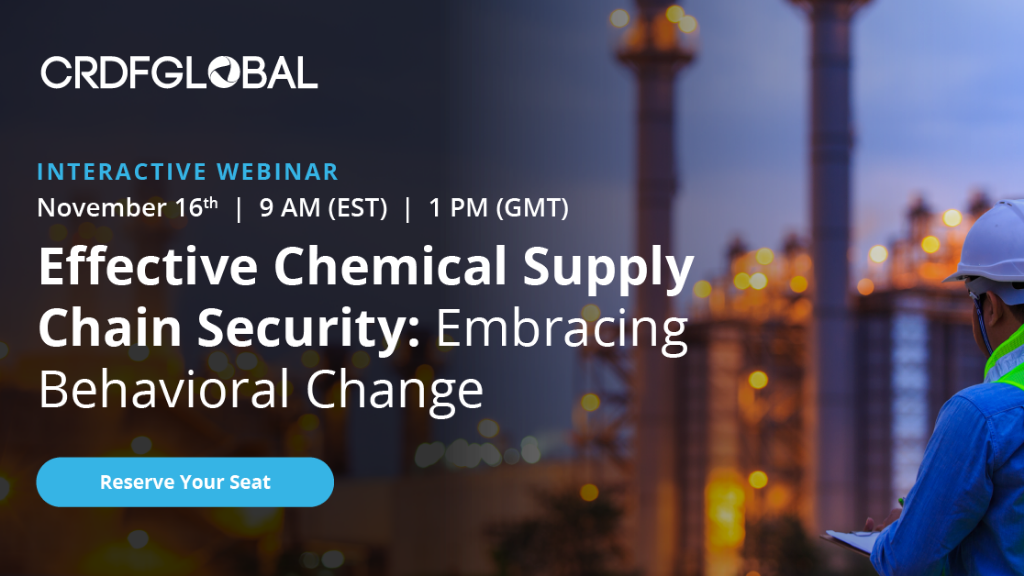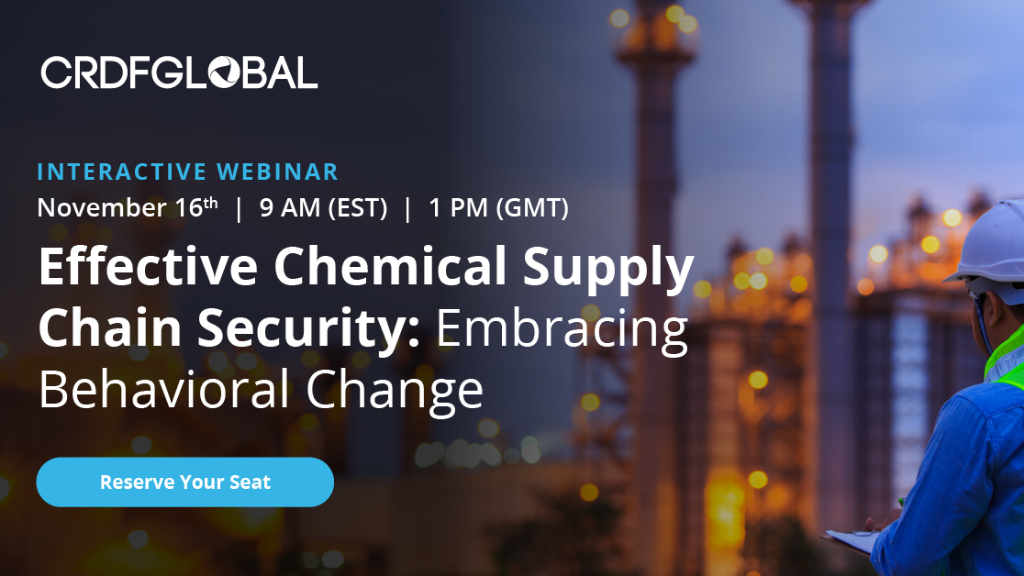 The ongoing pandemic has changed the ways chemical manufacturers and distributors do business. Current issues like rapid commoditization, complex supply chains, aging assets, and increased need for dynamic operations planning make it more demanding than ever to achieve the productivity level that drives differentiation and innovation. With the overall global demand falling due to the pandemic, chemical and pharmaceutical producers and wholesalers have had to explore new avenues to revitalize the chemical trade and increase market responsiveness.
On November 16, 2021, CRDF Global hosted Effective Chemical Supply Chain Security: Embracing Behavioral Change. The thought-provoking conversation was moderated by Vice President Tom Callahan and featured Steve Hess, CRDF Global's affiliated expert and the Principal of CSS Chemical Security Strategies, and David Toddington, founder and CEO of Toddington International.
Panelists discussed the ways in which malicious actors exploit vulnerabilities in the chemical industry for their benefit and the importance of proactive due diligence, customer vetting, and effective management of chemical supply chains. The new approach requires proper tools and procedures to mitigate pitfalls in chemical supply chains and encourage behavioral changes to broaden security awareness within organizations.
In his remarks, Mr. Hess reframed the attitude towards chemical security, stating it was not only an essential component of a business but also a public safety measure. He elaborated on a three-step process to improve chemical supply chain security by building robust partnerships, understanding fundamental security principles in the supply chain, and implementing public oversight for public safety.
To underscore the vulnerabilities and threats to chemical security worldwide, Mr. Toddington spoke about advanced due diligence techniques and open-source intelligence (OSINT) tools including navigating the dark web, often a repository for breached data. He suggested that organizations and companies take responsibility for finding their own information using a myriad of cyber tools to improve search efficiency and information gathering. To highlight the need for behavioral change to adapt to fast-paced changes in the environment, he highlighted the importance of proactive and reactive critical thinking to make knowledge-based decisions.
Throughout the conversation, panelists drew upon their expertise in law enforcement and industry to illustrate examples of chemical security best practices and effective measures for improving chemical security behaviors.