Impact Stories
CRDF Global's STEP Winner Recognized by TIME Magazine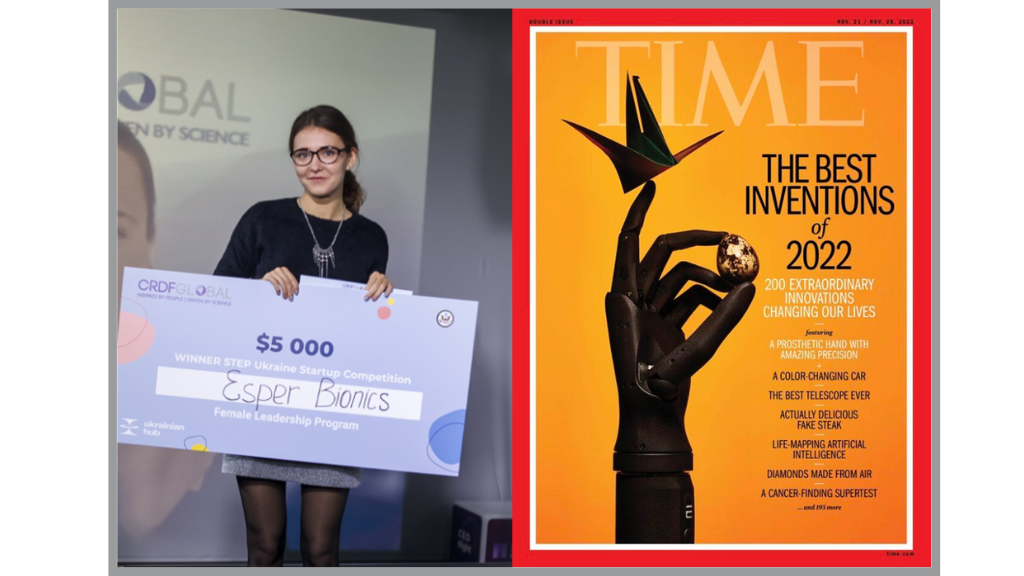 Esper Bionics graced the cover of the November edition of TIME Magazine, as they were recognized as one of the Best Inventions of 2022. Anna Believantseva, co-founder and COO of Esper Bionics, was one of the winners of the 2020 Female Leadership Program held by CRDF Global and Ukrainian Hub, made possible by funding from the U.S. Department of State
For more than a decade, CRDF Global's Science and Technology Entrepreneurship Program (STEP) has supported the development of a knowledge-based free-market economy in Ukraine through technology commercialization and entrepreneurship capacity-building activities. STEP competitions, trainings, mentoring, travel grants, and business development grants assist scientists, engineers, university students, and faculty to create new companies, develop entrepreneurial skills, translate innovative ideas into products, and enter local and global markets.
This program fosters a deep collaboration between U.S. and Ukrainian innovators, investors, and partner institutions. These activities are made possible by the funding from the U.S. Department of State's Bureau of Europe and Eurasian Affairs.
Some recognizable names in the cohort of CRDF Global trained and/or funded Ukrainian startups include:
Petcube
Preply
AXDRAFT
Kray Technologies
Hideez Group Inc.
Cardiomo
Esper Bionics
Anna Believantseva, co-founder and COO of Esper Bionics, participated in the 2020 STEP Female Leadership Program and received a $5,000 business development grant, as well as intensive 2-day training and one-on-one mentorship support from seasoned U.S. and European mentors. Anna was one of 120 female entrepreneurs who participated in the program and one of the four winners, chosen because they exemplified what it means to be a female leader in a male-dominated industry and because their products had the potential to significantly disrupt their respective sectors.
Since 2020, Anna and her team have continued to receive recognition for their Esper hand's innovative application of artificial intelligence in the sphere of prosthetics. Their Esper hand, as seen on the recent cover of TIME Magazine, is said to be "the first AI-powered, cloud-based robotic prosthetic that gets smarter over time". This year, they were also awarded with the Red Dot Design Award Best of the Best in Product Design for the astounding functionality, lightweight build, and its gender-specific anatomically precise design.

The Ukrainian startup ecosystem continues to demonstrate resilience and growth despite extreme wartime circumstances. According to a recent report by Dealroom.co, the total combined enterprise value of Ukrainian startups tripled from 2020 to 2022 (€7 billion- €23.3 billion). The same report also illustrates the great economic impact startups have throughout Ukraine: Ukraine leads the CEE region by far in job creation as a result of VC funding (almost 100 jobs created per million Euros raised between 2015-2022, the next closest country in the region barely eclipses 50).

2022 reflects Ukraine's dedication modernizing and rebuilding of their nation's economy. Startups are pivoting to address current issues arising in Ukraine, with 60% of startups, indicating that Ukraine was currently their key market (according to a survey by Emerging Europe).

Training, mentoring, and funding opportunities have a significant and impactful return for Ukrainian startups, a large percentage of which have remained in Ukraine at least partially throughout the war (Emerging Europe). Small business development and travel grants, such as those provided through STEP activities, provide critical support for early-stage startups, enhancing their potential to develop new technological solutions, expand their business, access new capital, and create new jobs.

"Acquired knowledge and expertise will help [early-stage] startups to avoid common mistakes and define the right strategy for the future. Further organizing of such tours [such as STEP] will greatly facilitate Ukrainian startups to understand the mindset and key tools used in growing, scaling, and fundraising for their businesses both in the U.S. and worldwide," said Olga Diachuk, COO of Mosqitter (2020 STEP Leadership Program winner).

As we increase access to mentorship and funding opportunities for early-stage startups, we increase the potential for more unicorns coming out of Ukraine and further bolstering the Ukrainian economy.