Impact Stories
CRDF Global Organizes Counterproliferation Finance and International Sanctions Symposium to Curb Illicit DPRK Activities in Southeast Asia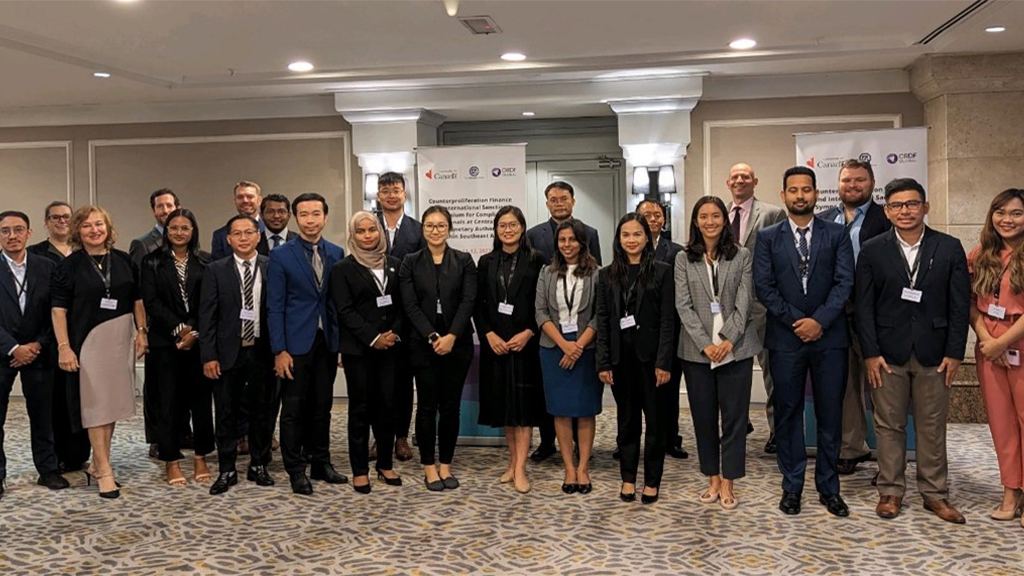 By Hunter Harris, Project Associate and Chris Gettel, Intern | UN Sanctions Compliance Team
To support the development of resilient Southeast Asian financial institutions capable of withstanding malign interference from the Democratic People's Republic of Korea (DPRK) and other sanctioned threat actors, CRDF Global convened public sector compliance professionals for an in-person workshop in Kuala Lumpur, Malaysia on July 11–12, 2023. With the generous support of Global Affairs Canada's (GAC) Weapons Threat Reduction Program (WTRP), CRDF Global partnered with a consortium of sanctions compliance and proliferation finance experts, including Kharon, Middlebury Institute of International Relations, Chainalysis, and Pillsbury Law to train 18 participants on a variety of topics, such as the functions of international sanctions; an overview of UN Security Council Resolution (UNSCR) and Financial Action Task Force (FATF) recommendations. Participants left with a better understanding of the typologies of sanctions violators and open-source research techniques to identify them. As Southeast Asia-specific case studies showed the risk regarding digital asset transactions and sanctions compliance challenges in the region, these stakeholders were empowered to restrict the opportunities for sanctioned actors to generate illicit revenue and bypass international sanctions.
The workshop allowed participants to build tangible skills in counterproliferation finance, expand their awareness of illicit activities and typologies, build meaningful industry connections within the region and their jurisdictions, and develop comprehensive compliance strategies through discussions with the panel of leading experts in the field. The event benefited from the South East Asian Central Banks (SEACEN) Research and Training Centre with its extensive regional network to attract participants from a range of central banks and monetary authorities across the region, such as Bank Indonesia, Bank Negara Malaysia, Nepal Rastra Bank, Bangko Sentral ng Pilipinas, the Monetary Authority of Singapore, and the Bank of Thailand, and the Anti-Money Laundering Intelligence Office (AMLIO) of the Bank of the Lao PDR as well as the financial intelligence units (FIUs) of Cambodia, Sri Lanka, and the Maldives.
Curbing the Influence of Sanctioned States within Southeast Asia
North Korea continues to target banks and regional financial hubs to launder money for its weapons of mass destruction (WMD) and missile programs. As the financial sector adapts to international obligations pursuant to UNSCRs on North Korea, updated UN sanctions implementation guidance and information on DPRK proliferation finance tactics help compliance officers to understand the specific risks that they face. Southeast Asian countries are particularly vulnerable to North Korean hacking and money laundering activity. According to Chainalysis, DPRK hackers reportedly stole nearly $1 billion (USD) from banks and digital financial institutions in Southeast Asia to date. Following successful CRDF Global engagements on counterproliferation finance (CPF) in recent years—including three virtual collaborations with the SEACEN Centre in 2021—CRDF Global and the SEACEN Centre identified new training requests by central bank officials in Southeast Asia to better understand and address these DPRK proliferation finance risks. CRDF Global responded to these requests by providing region-specific sanctions implementation materials and training to central banks and financial regulatory supervisors with this symposium on sanctions compliance topics. CRDF Global leveraged its existing relationship with the SEACEN Centre and its consortium of subject matter expert (SME) partners to provide a training tailored to the participants' specific regional and sectoral needs.
Increasing Counterproliferation Finance Capabilities
To deliver an impactful two-day in-person training, CRDF Global worked with Kharon and the SEACEN Centre to create a robust agenda that allowed the panel presenters to speak on a variety of counterproliferation finance topics targeted for the public sector audience throughout Southeast Asia.

Ms. Alina Kwan, First Secretary (Political) of the High Commission of Canada to Malaysia, gave opening remarks, during which she highlighted the importance of sanctions-related compliance capacity building for the public financial institutions across the region. Ms. Ayse Sunger, the Senior Financial Sector Specialist at the SEACEN Centre in Kuala Lumpur, Malaysia, also delivered remarks, during which she further stressed the critical role that these institutions play on effective proliferation finance controls in Southeast Asia and how important this training is for these participants. Following opening remarks and a brief introduction of the panel of experts from Ms. Briana Mason of CRDF Global, Mr. Adam Myers of Kharon and Mr. Jason Blazakis of the Middlebury Institute walked participants through a detailed introduction to the current trends in international sanctions, counterproliferation sanctions-related risk, and international compliance standards. As the day continued, Mr. Myers and Mr. Blazakis introduced several regional case studies on counterproliferation finance activities by sanctioned actors utilizing Kharon's ClearView research tool to detail to workshop participants the risk typologies that sanctioned actors use to evade international sanctions regimes. The first day of training concluded with multiple interactive tabletop exercises that encouraged the audience to develop practical strategies to tackle the compliance problems presented by the panel.

The second day of training saw the last two members of the panel of experts, Mr. Aaron Hutman of Pillsbury Law and Charis Chan of Chainalysis go into detail on digital assets and their risks relating to money laundering and proliferation finance. Both panelists utilized several case studies so that participants can better understand the types of actions malicious actors use to proliferate funds in the virtual asset market and the risks associated with having poor due diligence and compliance frameworks at their institutions. Participants were then given several resources, such as Chainalysis Reactor tool which allows users to connect any cryptocurrency transaction to real-world entities, allowing institutions to examine criminal activity, such as the movement of stolen funds, as well as legitimate activity like flash loans and NFT transfers. Finally, the workshop concluded with an open question and answer session with the entire panel and closing remarks from both the CRDF Global and SEACEN representatives.
Reflecting on the success of the engagement, SEACEN Centre representative Ayse Sunger noted that "SEACEN member states are working on a near constant basis to combat all types of illicit activities through this type of symposium and to provide participants with the skills necessary to put in place effective compliance and due diligence mechanisms." Multiple participants voiced positive feedback for the symposium, with several individuals stating that they would like further training focusing on more advanced topics regarding counterproliferation finance. Additionally, participants noted that with the increase in the use and acceptance of cryptocurrency throughout Southeast Asia they would benefit from future workshops that more deeply cover that topic. Overall, the symposium saw a very high level of audience engagement and individuals were eager to ask questions and share their due diligence/compliance best practices to their fellow participants.

Given the strong positive responses from participants, CRDF Global is planning further engagements in Southeast Asia and with SEACEN audience, as it continues its efforts to build resilience in the face of continued illicit activities by sanctioned actors. With that in mind, CRDF Global will continue to build upon its growing relationship with the SEACEN Centre, who proved to be an essential partner in the planning, outreach, and delivery of this symposium.