Farmer-to-Farmer Program Supports Farmers in Uzbekistan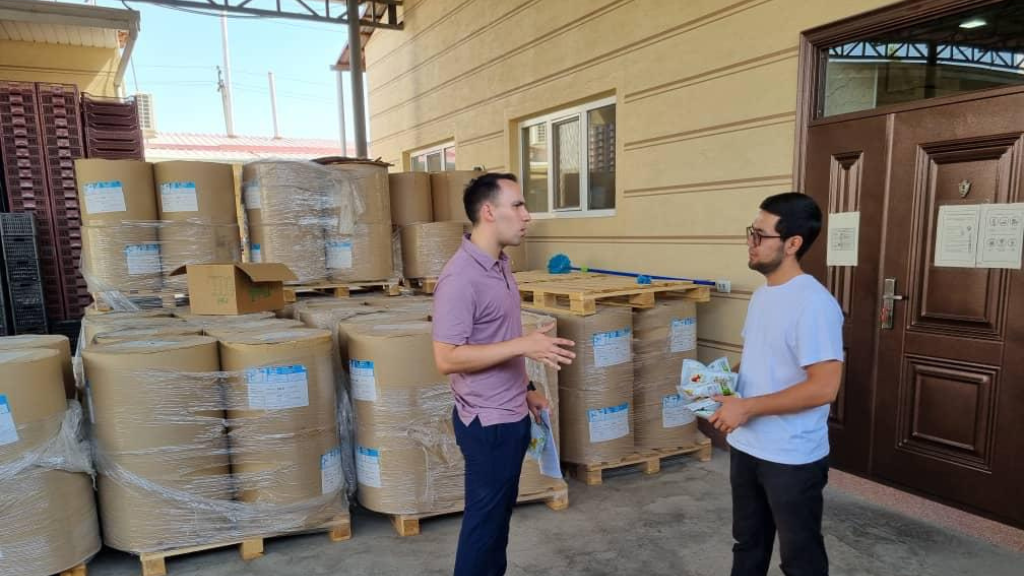 CRDF Global recently identified the six agribusinesses it will support through its Farmer-to-Farmer program in Uzbekistan. Funded by USAID, Farmer-to-Farmer (F2F) supports farmers and agribusiness professionals in developing countries to improve their livelihoods and food security by sending U.S.-based volunteers on technical assignments to provide hands-on training to communities, cooperatives, agribusinesses, and educational institutions.

On a recent trip, CRDF Global worked with a local partner to meet with each business and finalize the first round of technical assistance. Information on the hosts and assistance is provided below.

Ihlos ACB LLC
Ihlos ACB LLC is a new industry venture with a unique production and processing cycle. The company dehydrates fresh berries through sublimation (Freeze-Drying). Although new in the market, Ihlos ACB LLC established sales channels both domestically and internationally. Established in 2017, it was the first adopter of the new method.
Maroqand Meva Sabzavot LLC
Established in 2013, Maroqand Meva Sabzavot LLC is a leading fruit and vegetable production and exporting company. The organization is well developed and supports itself vertically as part of the Agromir groups companies, which has fruit and vegetable processing abilities. The company has fruit and vegetable production fields, nurseries to support and renew the crops grown, fruit and vegetable processing plants, storage facilities, and export packhouses.
Navigul LLC
Navigul LLC, established in 1996, is a leading vertically integrated fruit and vegetable exporting company. The company has 40 years of experience in drying fruits and vegetables and exporting to Northern markets. The old equipment was supplied by Italian companies during the late 1980s. The Company consolidates locally grown fruits and vegetables from farmers and households. Heavy reinvestment took place from 2015-2020 when the company was provided additional land and premises and built a new cold storage facility with the capacity of 8000 tons, along with IQF line and freezer rooms.
Samarkand Garden Plast LLC
Samarkand Garden Plast LLC, in the Samarkand region of Uzbekistan, is a leading fruit and vegetable exporting company. Ninety percent of products, including fresh and frozen products, are exported, valued at 5M dollars. Established in 2013, the organization originally focused on the consolidation and export of fresh and processed produce from the region. Seeing opportunities in sales of fresh fruits and vegetables and securing raw inputs for export, the company invested in establishing 970 Ha of orchards.
Usmon Sher Shamshod
Established in 2011, Usmon Sher Shamshod quickly became a leading fruit and vegetable exporting company (5M dollar worth of fresh, processed, and frozen fruits and vegetables). The company originally organized logistics of fresh fruits and vegetables for exporters in Uzbekistan. Seeing opportunities in the sale of fresh fruits and vegetables, the company invested in a small-scale packhouse. With increased capacity and a lack of horticulture from the region, the company invested in production.
Namangan Agrologistika
Namangan Agrologistika is a new fruit and vegetable exporting company established in 2018. Previously, the company was involved in a multi-sectoral trading business. Located in the center of fruit and vegetable producing areas, the company decided to invest in vertically-integrated business, with production, a packhouse, processing, and marketing units. The company sees an opportunity in the sales of fresh fruits and vegetables to be invested in small-scale packhouses, suitable for cherries and other stone fruits. The Company has also invested in a new type of orchard system, drip irrigation, and trellising for apricot production in an effort to serve as a model in the region.
CRDF Global will provide targeted technical support focused on organizational capacity building and process improvements of agribusinesses involved in horticulture exporting to increase productivity and profitability. Nine F2F assignments will be developed to address the specific business needs of the host organizations focused on increased income through organizational and process improvements.