Celebrating Women Scientists on International Women's Day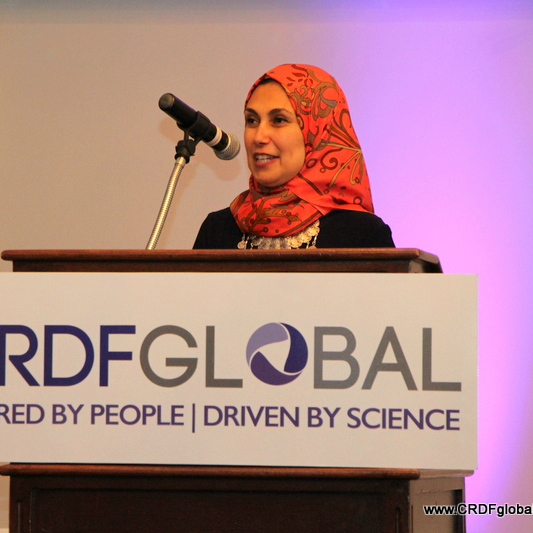 Editor's note: Last night, CRDF Global held its 2nd Annual Breaking Barriers in Science: Women in International Collaborations event. Celebrated on International Women's Day, the event honored the inspiring work of women scientists and innovators. One of the many ways that CRDF Global supports women scientists is through our fellowship programs. With support from the U.S. Department of State, CRDF Global's Robin Copeland Memorial Fellowship is a yearlong fellowship offered to women scientists working around the world in biological, chemical, and nuclear security. The women come to the United States for academic study and an internship and then return to their home country to implement a capstone project. Dr. Mona El-Shokry is a current Robin Copeland Fellow from Egypt. She spoke at last night's event about her work in Cairo and some of the unique challenges that she has faced as a woman in microbiology. We invite you to read her speech below. 
Good evening ladies and gentlemen,
I would like to thank you all for giving me the chance to be part of this wonderful gathering that celebrates women in all fields of science. It is such an honor to be here today. 
I am fortunate to be a member of the CRDF Global family and more specifically the Robin Copeland Memorial Fellowship, one of very few fellowships that not only empower young scientist in developing countries, but also celebrates mid-career women. Oftentimes, these women are working mothers, who give up a lot of opportunities to raise their families. When the right time comes it gets more and more difficult to find a program to support your dreams and embraces your ambitions.
For 14 years, I worked in academia and never thought of going beyond the borders because of my little children. After I was promoted to be an associate professor at Ain Shams University in Cairo, I decided to take the risk, step out of my comfort zone and take a break from  academia. I never regretted that decision.
All my potentials were fulfilled the day I joined the Global Disease Detection Center of CDC at the U.S. Naval Medical Research Unit 3 (NAMRU-3) to work on a project that started 10 years ago. Surveillance of Healthcare Associated Infections and Antimicrobial Resistance is a project funded by USAID and aimed to promote health quality and safety in Egypt. We have done incredible work with over 30 hospital laboratories, educating, training, providing resources, and addressing challenges. We encourage researchers to think outside the box to come up with innovative yet affordable solutions for their problems to ensure sustainability. The change we observe in each laboratory and the appreciation we receive from each person working there is what has kept us going through these years. If one sentence can describe the huge transformation of the participating laboratories it would be "from zero to hero".
I believe that all people in developing countries are thriving to learn and serve better, but limited resources and oftentimes a lack of good management stands in the way. I applied for the Robin Copeland Memorial Fellowship because I knew that I needed to learn more about biorisk management. I have directed my efforts to providing awareness, knowledge, and skills to build capacity for biosafety and biosecurity in my country and set a model for other developing countries to follow. I learned through this fellowship that biorisk management is explicitly oriented around performance and so an institution with a low resource environment can implement biorisk management as effectively as an institution in the developed world.
It has been an incredible, yet wild journey for me with the Robin Copeland Memorial Fellowship so far and I have to give the credit to my husband, my family, my whole team at Global Disease Detection Center of CDC at NAMRU-3, my Middlebury Institute of International Studies at Monterey team, the Association of Public Health Laboratories, and of course CRDF Global and the U.S. Department of State who are taking a good care of us.
I hope my achievements throughout this fellowship can inspire not only other midcareer, researchers and scientists to follow their dreams, but also all programs and funding agents to provide them with more educational opportunities and leverage their expertise.
And I am certain that we can succeed. After all, we have the minds of young scientists, the wisdom of older women and the commitment of all women alike.